Care, Comfort and Choice… When You Need it Most
November 1, 2018 at 6:00 a.m.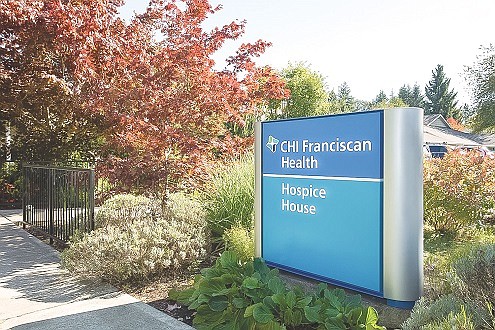 ---
This article is sponsored by CHI Franciscan Hospice and Palliative Care
Whether it's you, your spouse or a dear friend, the time may come in a serious illness when a cure is no longer attainable. This would be the time to turn to Franciscan Hospice and Palliative Care. At Franciscan, we meet patients and their families where they are, and help relieve pain, anxiety, stress and discomfort. Care can be provided at home, in a skilled nursing or assisted living facility, and even in the hospital. Franciscan Hospice and Palliative Care also offers the region's only inpatient hospice facility, Franciscan Hospice House in University Place. Hospice care focuses on quality of life as you and your family define it. The hospice philosophy centers on the rights of patients and their families to remain in control of their lives. Our goal is to coordinate care—to support your choices and wishes at this difficult time in life's journey. As a loved one becomes more frail, care needs can become overwhelming. We do all we can to alleviate symptoms and much of the burden and stress of caregiving.
Hospice care involves a team-oriented approach to expert medical care, pain and symptom management, and emotional and spiritual support. At Franciscan Hospice, we know families also suffer, so we offer practical and meaningful support for the entire family.
Care for patients includes:
• Symptom control (anxiety, fear, breathlessness, depression, nausea and pain)
• Medical equipment and supplies (such as a hospital bed and oxygen)
• Emotional and spiritual support
• Counseling (emotional, psychological, financial)
• Volunteer assistance and caregiver coordination
• Comfort therapies (massage, aromatherapy, music, art)
Care for loved ones includes:
• Caregiver training and guidance
• Individual counseling for emotional and spiritual support
• Grief support groups
Franciscan Hospice is life-affirming, self-directed comfort care that lets families focus on what's important: time together.
"You made our mother and our whole family feel cared for and comfortable during this difficult time." – A Grateful Family
MORE INFORMATION
The sooner you call, the sooner we can help. Hospice is a covered benefit of Medicare Part A and many insurance plans, so there is generally no charge for items and services related to the hospice diagnosis. To learn more or to talk with someone about how Franciscan Hospice and Palliative Care can help you and your family, please call toll-free 1-866-969-7028 or visit chifranciscan.org/hospice.