Cruise from the Emerald Isle to the Land of Fire and Ice in ultimate style
Travels with Deb
June 1, 2018 at 6:00 a.m.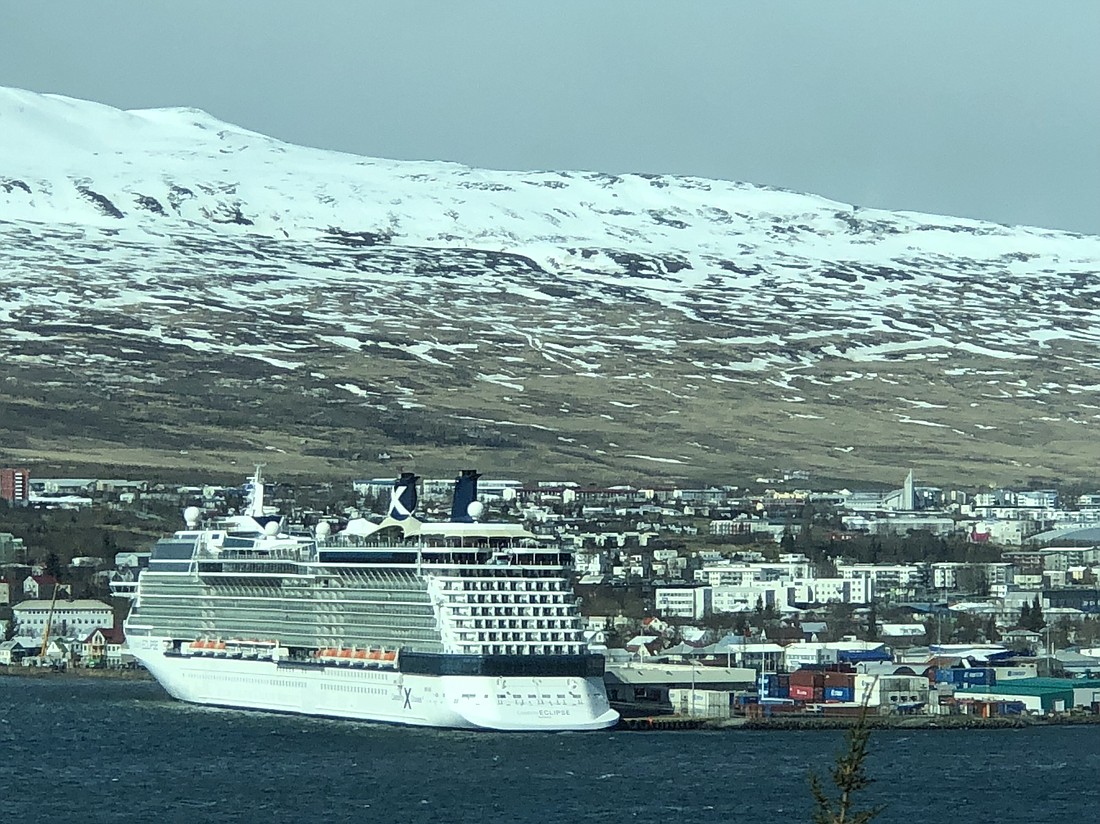 ---
---
I am easily enamored with all things Irish and my affinity with the country and its people is apparent as soon as I step on the soil of this magical, mystical isle. I adopt O'Stone as my new last name, attempt to speak with a lilting brogue, drink Guinness for breakfast and can belt out the words to "Molly Malone" with the best of them, albeit off-key. Sadly, my strong Germanic genes and Yank accent are dead giveaways, making my transformation to an Irish lass highly improbable. But, hey, you got to give me credit for trying!
---
---
Although I've been to Ireland a few times over the years, I've never gone via a cruise. This time, I chose to do a ten night Ireland and Iceland trip with Celebrity Cruises aboard the Celebrity Eclipse. The cruise line has a stellar reputation in the industry and has received many notable awards and honors. The company is known for its sleek ship design, culinary excellence, outstanding service, well-appointed cabin accommodations, surfeit of amenities, extensive menu of destinations that span the globe and select shore excursions that allow passengers to explore ports of call in a myriad of ways. All of these distinctions factored in to my decision to sail with the company. Additionally, I was intrigued with the unique itinerary of this particular cruise, as it paired two countries together that are not often visited in one trip. Though very different in many aspects, these destinations share a few commonalities. They are both islands with stunning landscapes, amicable and welcoming people, colorful histories and weather that has a mind of its own.
---
---
The cruise began in Dublin, the capital and largest city in Ireland. Described by National Geographic as having a "friendly, village vibe," this is a place that's easily explored at your own pace. Take a historical guided walking tour to get an introduction to the town's stirring past. Then hit the highlights, including Trinity College, Ireland's most famous school, which boasts the treasured Book of Kells, a highly significant piece of art from the Dark Ages; 700-year-old Dublin Castle; the National Museum with its collection of Celtic artifacts from the Stone Age; Kilmainham Gaol, an historic jail once used by the British as a political prison, now a museum that tells a moving story of the suffering of the Irish people; Christ Church Cathedral; and the Irish Emigration Museum.
Stroll through St. Stephen's Green, a lovely oasis in the middle of the city, shop 'til you drop on pedestrian-friendly Grafton Street, grab some fish and chips or a hearty bowl of seafood chowder, then head to Temple Bar, a colorful pub district and a great spot for live music.
---
---
The pub has always been the social focus of Irish culture and it is one of Ireland's most popular attractions. In the Temple Bar area, there are plenty of options to imbibe and enjoy the tunes. However, if you want to learn about Irish music and visit authentic establishments in the city, join a Traditional Irish Music Pub Crawl. Led by two professional musicians who play the fiddle, guitar and bodhrán (Irish drum), you'll hear the story of Irish music and its influences on contemporary world music. And yes, having a pint or two in the process will only enhance this entertaining experience.
---
---
There are five themes in Irish music: drinking, war, emigration, lost love and death. In most cases, musical talent runs in the family and is passed down through the generations. Many musicians learn by ear and not by reading the notes. When they get together to play in pubs, there's typically no set list and no one really knows what piece will be played next. If you're in the audience, don't clap along –instead, tap your toes. It's the Irish way, as most of the traditional music was made for dancing.
No trip to Dublin is complete, however, without a visit to the Guinness Storehouse, as everyone knows that Guinness is synonymous with Ireland. The production site at the legendary St. James Gate Brewery has been home to the company since 1759. Here, you'll discover the age-old art of brewing that makes Guinness so distinctive, learn how to pour the perfect pint in the Guinness Academy and of course, enjoy a multisensory tasting experience designed to help you appreciate the nuances of this iconic stout. Don't leave without stopping in at the Gravity Bar, where you'll have unparalleled panoramic views of the city.
---
---
During the cruise, we visited two other ports in Ireland: Cork and Belfast, the latter which is actually located in Northern Ireland. Cork originated as a monastic center and then the Vikings came and left their mark. It was also influenced by the Anglo-Normans, as well as planters, landlords and industrialists, and is the only city in the country to have experienced all historical phases in its urban development. The ship docked at the port town of Cobh, where you can take a train or bus to Cork. Cobh is an interesting place in itself, as this is where the Titanic paid its final visit in 1912 before departing on its ill-fated journey. You can retrace the steps taken by the passengers prior to boarding the ship on a city walking tour, followed by a visit to the Titanic Experience, which is housed in the original White Star Line Ticket Office.
---
---
Cobh is also the site of the famed Annie Moore statue. The seventeen-year-old local girl, along with her two younger brothers, traveled on the S.S. Nevada in 1891 bound for the U.S. The trio arrived on New Year's Eve, and Annie was the first immigrant to pass through Ellis Island. A second statue of Moore and her two siblings can be found on Ellis Island.
In Cork County, there is much to see and do from scenic drives along wild beaches and jagged peninsulas to a tour of the Jameson Heritage Center, where you can learn about the history of whiskey making, and of course, have a glass or two of the renowned liquor in the distillery's traditional Irish pub. You can also take a tour of nearby Kinsale, an historic town with quaint streets and colorfully painted houses, or get a dose of Irish maritime history at Charles Fort.
---
---
For many folks, a visit to Blarney Castle is a must in order to kiss the Blarney Stone. The castle, which was built by the King of Munster, Cormac McCarthy, is 600 years old. And the stone that was to become the Blarney Stone, was given to McCarthy by Robert the Bruce of Scotland for helping Bruce fight and defeat England's King Edward II. McCarthy took the piece of carboniferous limestone and placed it into the battlements of the medieval fortress. According to legend, kissing the stone endows the kisser with the gift of gab, which is defined as great eloquence or skill at flattery.
---
---
To reach the stone, you need to climb a steep 127-step staircase to the parapet walk. Once upon a time, you had to be held by the ankles and lowered head first over the battlements to kiss the stone. Today, it's a more cautious affair, as you lie down on the ground and gingerly lean backwards, while holding on to an iron railing. An assistant is there to help guide you…and thankfully wipe the stone with disinfectant in between kisses! You'll join hundreds of world statesmen, literary giants and legends of the silver screen who have all performed this same rite.
Make sure to explore the range of themed gardens on the estate, such as the Fern Garden, which is designed to feel like a tropical jungle. The Poison Garden is home to a collection of deadly and dangerous plants from around the world, like the caged specimens of nightshade, wolfsbane and poison ivy. There's also a Water Garden with lovely waterfalls that create an enchanting backdrop.
---
---
Though Ireland is high on many tourists' bucket lists, Northern Ireland doesn't always make the cut. This is unfortunate, as it is a very worthwhile destination that rewards visitors with dramatic scenery spanning the gamut from gentle, verdant countryside to exposed moorlands and rugged shores. It's also the location of the Giant's Causeway, an UNESCO World Heritage Site and the Eighth Wonder of the World. These unique geological formations, consisting of 40,000 interlocking basalt columns, some as high as thirty feet, were created from a volcanic eruption. And yes, they appear as if a giant placed them there.
---
---
Belfast, where the ship docks, is the capital city of Northern Ireland. It's a bustling no-nonsense metropolis that was once a major textile town and shipbuilding industry hub, known for being the birthplace of the Titanic. To uncover the true legend of the famous cruise liner, head to the Titanic Quarter, where you'll find Titanic Belfast, the world's largest Titanic visitor experience. Creative interpretive and interactive displays bring the tale of the ship and the people who brought her to life in a memorable way. The building's iconic architecture is also notable. At six stories tall, it has more than 3,000 aluminum panels that reflect the sunlight. Each of the four corners represent the bows of ships, pointing along the cardinal compass points.
---
---
A tour of the many political murals which dot the city and depict the region's past and current political and religious divisions provides valuable insight into "the Troubles." These colorful and often poignant murals have become important symbols of Northern Ireland and are of great interest to visitors. Your tour will take you to Shankill Road (Unionist Protestant) and Falls Road (Nationalist Catholic), two working-class neighborhoods, which are separated by a Peace Wall. Nearly a hundred walls were erected over the years as a means of defusing sectarian tension. Today, "peace gates" are being opened in some of the walls in an attempt to foster greater links between communities. The plan is to hopefully tear down all of these structures in the future.
Among the more unique shore excursions available for Celebrity passengers in Belfast and its environs include opportunities to learn about Irish traditions via music and dance (where I discovered after trying a few steps that I would never get chosen to be in the cast of "Riverdance!"), make traditional Irish bread, have tea at a grand country estate, spend an afternoon in an eerie Victoria-era gaol, and dress up in a "Game of Thrones" costume while trying your hand at medieval archery at Castle Ward (Winterfell), the set of the hit HBO series. For those who don't wish to participate in a group excursion, there's always the option to go the independent route and plan your own activities off the ship.
---
---
After being soothed by Ireland's emerald landscape, Iceland will come at you full force in all its dramatic glory. Widely known as "The Land of Fire and Ice," Iceland is a country of extreme geological contrasts. It's home to some of the largest glaciers in Europe, as well as some of the world's most active volcanoes. Vast areas are covered with mountains, lava fields, lakes, waterfalls, black sands and hot springs. This environment has been shaped by the elements to form a majestic scenery unlike any other place on the planet.
Iceland sits on top of the mid-Atlantic Ridge, a long crack in the ocean floor caused by the separation of the North American and Eurasian tectonic plates. The western part of the country belongs to the North American plate and the eastern part to the Eurasian plate, which means Iceland is actually in two continents. Volcanic activity is a fact of life here and people have learned to live with both its drawbacks and considerable advantages, such as geothermal energy and a stunning natural milieu.
---
---
Roughly the size of Kentucky, Iceland is largely uninhabited. It has a population of about 320,000, where more than half of the people live in the capital city of Reykjavik. Icelandic culture has been molded by isolation and the extreme forces of nature. Such conditions have created a resilient populace, where family ties are close, the sense of tradition is strong and the connection with nature is deep.
The country was settled by Norsemen from Scandinavia and Celts from the British Isles in the 9th and 10th centuries. These early residents established the world's first parliament back in 930 A.D. The parliament's original location, Thingvellir, is a designated UNESCO World Heritage Site and National Park. This location was chosen as the meeting place to discuss and decide new laws, due primarily to the fact that it had a natural amphitheater for holding speeches. The place is very special to Icelandic people, as it is here that the roots of democracy were formed.
---
---
Aside from its historic significance, Thingvellir holds great appeal for geologists. It is the visible site of the mid-Atlantic Ridge, where the two tectonic plates meet. This is remarkable as it is only one of few places in the world where you can actually see the movement of the plates above sea level. The plates are being pulled apart at a rate of nearly an inch per year, creating the Thingvellir Rift Valley. The rift has produced dramatic fissures and cliffs, which combined with mountains on three sides, grass-covered lava fields and Lake Thingvallavatn, make this area a jewel of nature. It is one of the most frequently visited tourist attractions in the country and part of the famous Golden Circle route, also known as The King's Road.
---
---
In addition to Thingvellir, the Golden Circle contains two other equally stunning locations: Gullfoss Waterfall and the Geysir Geothermal Area. In Icelandic, Gullfoss means "Golden Waterfall," a name derived from the fact that on a sunny day, the water takes on a golden-brown color. The two-tiered waterfall is massive and cascades down from heights of 69 feet and 36 feet into a long crevasse below. Your view is from above and it appears that the waterfall is actually going underground and disappearing into the earth.
The Geysir Geothermal Area is a place of boiling and belching mud pots of unusual colors, exploding geysers, hissing steam vents, hot and cold springs and warm water streams. The area became active more than a thousand years ago and for a long time the Great Geysir took center stage in regards to eruptions. Though dormant for decades, its fame remains, having lent its name to hot springs all over the world. It was the first geyser described in a printed source and the first known to modern Europeans. The English word "geyser" is derived from the Icelandic word "geysir," which means gusher. "Strokkur," the Great Geysir's brother, is the new star, as it erupts at regular intervals, every five to seven minutes or so. Pathways take you around the hot spring area, though unlike at Yellowstone, there are no fences or barriers between you and the scalding water so it's best to keep a healthy distance.
---
---
You will most likely stop at Hellisheidi Geothermal Power Plant on a Golden Circle tour. One of the world's largest of its kind, the plant was created to provide electricity to the city of Reykjavik. It generates over 300 megawatts of power using the geothermal steam rising from vents in the ground. An excellent visitor center provides detailed information about the process.
---
---
There's a special hot spring rye bread that is baked in the ground using the geothermal heat. It takes about twenty-four hours to cook and is well worth the wait. Slather some Icelandic butter on it and enjoy other Icelandic specialties such as trout, smoked salmon, herring, veggies from a local greenhouse and mountainous open-faced sandwiches piled high with all sorts of goodies. Finish with a shot of Brennivin schnapps, better known as "Black Death." Made with fermented potato mash and flavored with caraway seeds, this traditional Icelandic liquor packs quite the punch!
For the ultimate geothermal experience, head to the Blue Lagoon, where you can bathe in the steaming, mineral-rich seawater. Now a world class spa, the Blue Lagoon is known for its beautiful milky-blue opaque water, which is believed to be a result of the blue-green algae that thrives in this environment. Purportedly, the water is good for the skin, particularly those suffering from psoriasis, as it contains such minerals as silica and sulphur. The place is an oasis of relaxation for both locals and tourists alike.
In addition to these noted attractions, Celebrity passengers can choose from an array of other tours to explore the Reykjavik area, as the ship stays in this port for two days. Take a city sightseeing trip to discover this hip capital with its vibrant cultural scene. Delve into the paranormal with a haunted walk through Old Town Reykjavik. Visit Arbaer, an open air museum to learn about the way of life for Icelanders in the past, or learn about the aurora borealis at the Northern Lights Center, with perhaps a chance of actually seeing this magical phenomenon later at night. You can also go whale watching, whitewater rafting, climb to the rim of an old volcano and enter the dark reaches of a lava cave for an underworld adventure. And for equestrians, there's the opportunity to ride an Icelandic Horse.
---
---
The Icelandic Horse is legendary. Brought to Iceland by the Vikings in the 9th and 10th centuries, it is one of the oldest breeds of horse in the world. These horses are small in stature, but don't call them ponies, as the Icelandic people are very particular about this characterization. There are ninety different color combos of the breed, and they have five gaits instead of the normal three. In Iceland, they number around 80,000, so your chances of spotting one or two roaming the landscape are good. As these beautiful horses are a huge part of life and history in Iceland, they are regarded with special fondness. They are mainly used for riding and companionship, though they are also bred and exported around the world.
The other port of call for the ship in Iceland is Akureyri. Lying only sixty miles from the Arctic Circle, this city is a sight to behold. The town is flanked by granite, snow-capped mountains, which protect it from the winds, while fertile farm lands and the crystal waters of one of the country's most breathtaking fjords add to this striking setting.
---
---
To experience this part of the country's natural gems, embark on a "Jewels of the North" excursion, which will take you to Godafoss or "Waterfall of the Gods." Drama doesn't get much better than standing on the edge of a vertical cliff overlooking this spectacular feature in all its thundering, foaming magnificence. Godafoss, however, is not just a pretty face. One of the most important events in Icelandic history occurred here. In the year 1000, Þorgeir Þorkelsson, the lawspeaker of Iceland was faced with the task of settling the growing disputes between Christians and those who worshipped the old Nordic gods. After deep meditation, he decided to make Christianity the official religion of the country. As a symbolic act of the conversion, he threw his heathen statues into the waterfall. This, according to legend, is how Godafoss got its name.
---
---
Another stop on this tour is Dimmuborgir, a lava field with the most unusual rock formations and caves, reminiscent of an ancient collapsed citadel. Formed by a lava-lake flowing from a large volcanic eruption about 2,300 years ago, these fascinating geological creations will spur your imagination. As you wander the labyrinth pathways of this ethereal landscape, you might see images in the rocks that resemble animals or people. One in particular looks like a man and a woman arguing, but viewed from a different perspective, it looks as if they are kissing.
Dimmuborgir, in Icelandic, means "dark castle" or "black fort." In folklore this area is connected to many stories about elves, trolls and other mystical creatures. Some say Dimmuborgir is the home of a homicidal troll, Gryla, her third husband and their thirteen sons, the Yule Lads. The boys return in the snow each Christmas to give children gifts or rotten potatoes depending on their behavior during the year. They are each known for a particular habit or characteristic and are depicted as mischievous pranksters and petty criminals, with names like Door Slammer, Sausage Stealer, Spoon Licker and Window Peeper.
---
---
The tour also visits Hverir, another of Iceland's famed geothermal fields. The landscape here is surreal with fumaroles or steam springs, along with mud pools and mud pots that all seem to be boiling with relentless energy. They are surrounded by sulfur crystals of many different colors. The formations against a yellow-orange scorched landscape makes you feel like you've landed on another planet.
Hverir is in the Lake Myvatn region, where you can also see pseudo craters. A pseudo crater looks like a true volcanic crater, but it's not. These distinctive landforms are created when flowing hot lava crosses over wet ground and pushes the ground down. This causes a lot of steam to be trapped under the weight of the lava, which results in enormous pressure. When the pressure becomes too great, the steam explodes and pseudo craters are formed.
The lake is a renowned destination for birdwatchers and there's even a bird museum nearby that is considered to have the largest private bird collection in Iceland. Inside is an interactive display with specimens of all but one of the Icelandic breeding birds. Outside, telescopes are set up to watch birds on the lake.
---
---
Before returning to Ireland, the ship makes one final stop at Lerwick on Scotland's Shetland Islands. There are more than one hundred of these islands, yet only fifteen or so are populated. Lerwick, the capital, is easily explored on foot. Stroll the narrow, picturesque streets dotted with shops and cafes, visit the history museum, artillery fort and prominent town hall. The latter is easy to find, as it sits on a hill and has a large clock tower. It is Shetland's main civic building and dates back to the 19th century. Take a peek inside at the impressive stained glass windows, which are intended to convey powerful images of Shetland's heritage and civic pride.
---
---
To really appreciate Shetland's scenery, take a ride through the countryside. It will soon be obvious there are more sheep than people in this tranquil landscape of peat and heather. You'll have views of farmland, small lochs and streams, a stray house here and there, the occasional church, and of course, plenty of Shetland Ponies. This hardy, sure-footed breed is the strongest of its kind in the world. At only 48 inches tall, the creatures were originally used as beasts of burden. They are as cute as can be, however, those who know these animals will caution you that they can have an attitude!
The coastline is rugged and characterized by caves, natural arches and steep cliffs plummeting into the water. You'll be able to see the isthmus, where the North Sea and the Atlantic Ocean meet, and if you keep your eyes peeled, you'll probably spy Grey Seals basking on the beach.
---
---
Shetland has an important archaeological site that is well worth the visit. Jarlshof Ruins is a complex of ancient settlements, which cover more than 4,000 years of human history. The range of archaeological treasures includes late Neolithic houses, a Bronze Age village, an Iron Age broch and wheelhouses, a Norse longhouse, a medieval farmstead and a 16th century laird's house.
As you tour the island, you might wonder why there are so few trees. Years ago, this was not the case, but over time, they were cut down and used to build houses and boats. Though people have tried planting more trees, the area is just not conducive to growing them due to the fierce winds. Every so often, you'll see a tree or two in residents' yards. We were told they keep them like pets!
It's a bit tricky to understand the local dialect on Shetland. If someone says "Noo den" or "Eye, eye," he/she is greeting you in a friendly manner. If they pat the seat beside them and say "Dip dee doon," that's a welcoming way of inviting you to sit down and join them. And if they want to ask your opinion, they'll use, "Quit tinks du?" My favorite though is, "A'm black fantin," which means, "I'm very hungry."
---
---
When you're not exploring the various ports, you'll be enjoying the many amenities onboard Celebrity Eclipse. The ship has two pools, several hot tubs, a library stocked with books, cardroom, casino, computer center, numerous bars, restaurants, entertainment venues, shops and, specialty boutiques, and even a lawn club that boasts real grass. The fun is limitless with oodles of activities such as cooking demos, galley tours, dance lessons, glass blowing sessions, art auctions, port and destination talks, wine tasting, sports, games, youth programs and more. There's something for everyone and you can be as active as you like, or choose to veg on a deck chair, mesmerized by the deep blue sea. Know that whatever you do, the crew is there to make your cruise a memorable experience. They are friendly, helpful and always polite, and their international backgrounds create a mini U.N. milieu.
---
---
Canyon Ranch runs the spa and fitness classes on the ship. The spa offers a range of treatments – everything from hot stone massage and organic sea salt scrubs to herbal wraps and reflexology. I had a nourishing vitamin infusion facial that was both relaxing and therapeutic. My skin looked brighter and smoother, and gave me a youthful boost. And if you're looking to spruce up your look, the salon provides an array of services for hair, nails, makeup and even teeth whitening.
The spacious fitness center has all the bells and whistles, with classes that will get you moving and make you sweat, build strength and improve flexibility. Or take your workout outside and use the jogging track, while enjoying the views. There are also life enhancement seminars on topics such as feet and back health, antiaging skincare, detox and weight loss, and exercise and nutrition. And personal trainers are available for individualized sessions and consultations.
---
---
When it comes to food, Celebrity prides itself on its cuisine, offering passengers a myriad of food choices, and the staff is always more than willing to cater to specific dietary needs. There are numerous dining venues onboard the ship. In addition to the main buffet and the central dining rooms, there are specialty restaurants and cafes where you can enjoy different types of cuisine, like Japanese at Sushi on 5, Italian with a contemporary twist at Tuscan Grille or classic French in Murano. And for a truly unique gastronomic adventure, there's Qsine. Dishes take their cue from cooking styles around the world – Chinese, Indian, Mediterranean – to name a few, and courses are served family-style. You order from iPads, which sets the stage in this quirky and playful restaurant. Be prepared for innovative presentations, such as bowls of ceviche set on a faux granite two-level serving platter, mini tapas stacked within a construction of shadow boxes or chocolate-dipped strawberries on sticks in a box of real grass. Decide your dessert from a Rubix Cube-like menu. The experience is fun…and tasty!
At night, the ship is a hive of action with passengers heading to eat, drink, dance or enjoy the entertainment. There are professional stage productions, dance shows, comedians, live music and movies. Or try your luck in the casino. Boredom is a nonissue on this cruise ship!
If you go:
Debbie Stone is a travel writer and columnist, who explores the globe in search of unique destinations and experiences to share with her readers. She's an avid adventurer who welcomes new opportunities to increase awareness and enthusiasm for travel and cross-cultural connections. Her stories appear in a number of print publications as well as on various travel-oriented websites, and she can also be heard on the radio dishing about travel with the hosts of Big Blend Radio. Debbie is a longtime Seattle area resident, who currently resides in Santa Fe, New Mexico.