Giving Care, Taking Care
A conference for family caregivers
April 29, 2018 at 2:19 p.m.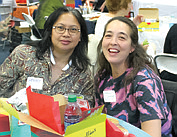 ---
This article is sponsored by the Washington State Department of Social & Health Services
Whether you are a full-time caregiver for your family member or just starting to help your loved one with a few extra tasks around the house, the Giving Care, Taking Care Conference is for you. A conference with practical, up-to-date resources to help you in your caregiving journey, the annual Giving Care, Taking Care conference is Monday, June 4 at the Tukwila Community Center.
"Family caregivers play such an important role in their families, and in our state – but so often they feel isolated and overwhelmed," said Lynne Korte, DSHS Program Manager. "Every year, hundreds of family caregivers come together for this educational conference. In addition to the workshops, attendees say a highlight of the day is meeting so many other caregivers – it helps them realize they're really not alone, and that help is available."
"I feel affirmed and encouraged," said Daphne Jones of the conference, which she has attended for several years. "You are greeted and feel welcomed when you arrive. They have great keynote speakers and break-out sessions," she added. "The conference is informative, educational, encouraging and well-organized."
Attendees can interact with experts on a variety of topics, including dementia, legal considerations, caregiver tips and stress management. This year's keynote speaker, Elaine Sanchez, author and co-founder of CaregiverHelp.com, will start the day with "Seven Survival Tips for Caregivers."
In addition to the workshops, breaks, lunch and the late afternoon reception provide great opportunities to meet and learn from other caregivers in similar situations. You'll also find resource booths with caregiving products, services and information.
The all-day conference is designed for:
• Family members caring for an adult or senior with chronic illness or disability;
• Adult children concerned about aging parents;
• Parents caring for adult children with disabilities
• Workers from long-term care, assisted living facilities and adult family homes
• Home care agency staff
• Social service, adult day service and mental health professionals who work with family caregivers.
Space is limited and you must register in advance – registration at the conference is not possible. Early-bird registration: register by May 14th and the cost is only $30 for individual caregivers or $50 for agency caregivers (lunch is included). After May 14th, fees increase to $40 and $75, respectively. Scholarships are available for unpaid family caregivers – call 360-725-2545. Family caregivers currently accessing MAC/TSOA services can have their registration covered, contact your MAC/TSOA case manager to access this opportunity.
Accommodations are available for people with disabilities, simply indicate the needed accommodations on your registration form and mail it in by May 14.
The work you do as a caregiver is important and we hope you'll join us on June 4th at the Giving Care, Taking Care conference in Tukwila.
For more information or to register, please call Lynne Korte at 360-725- 2545 or visit https://www.fulllifecare.org/givingcaretakingcare/