A Tale of Volunteering
From the Caribbean to Seattle on a Trail of Stories
September 1, 2013 at 6:00 a.m.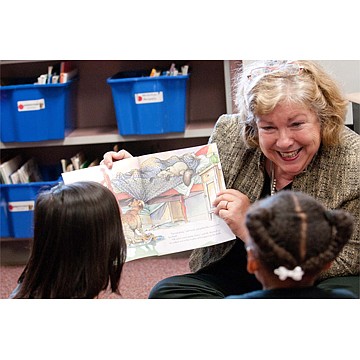 ---
---
Once upon a time, a group of volunteers developed a concept to help improve the reading skills of children in need. Over the next twenty-plus years, their idea prospered and grew into a successful children's literacy program, called Page Ahead, that has placed more than 2 million new books in the hands of over 650,000 children in need throughout Washington state, expanding as well into Families Read workshops and Story Times in preschool and kindergarten classrooms.
"The End?" No! The tale of Page Ahead is, happily, a continuing one, wherein volunteers figure prominently in the cast of characters. That, in fact, is the reason I am the narrator for this Page Ahead tale, as I near the two-year-anniversary of my own involvement with the organization. I was drawn to Page Ahead by a feature article in The Herald of Everett about a Story Time volunteer.
My childhood in Puerto Rico was bereft of story times led by cheerful adults in goofy hats, as the only public lending library on the island—the hushed and stately Biblioteca Carnegie in Old San Juan—was geared to serious research needs. Still, reading was one of my earliest favorite pastimes. As toddlers, my sister and I could always count on our grandfather to decode for us the Sunday newspaper funnies. Once we learned the ABCs ourselves, our parents would take us on weekend comic-book shopping trips. Fairy tales kept me indoors on many a tropical sunny afternoon, and Scholastic Book Club order forms were a monthly highlight of my grade-school years. In college I studied languages and literature, and in my professional life I have ventured into journalism, copyediting, art publishing, documentary films, educational television, and teaching—all fields in which I have experienced the joy and privilege of sharing stories.
During the past 16 years, I have also delighted in accompanying my son and daughter as they have grown into avid readers. I have met dozens of dinosaurs that have been discovered since I was a girl; explored anew our solar system and the star fields beyond; processed more facts and figures about the critters that crawl, swim, fly, slither, stomp, and dash their way around our planet than I ever thought possible; and relived the tales of Robin Hood, Ali Baba, the knights of the Round Table, and fellow denizens of myth and folklore the world over. It has been a joy to visit the great green room in Goodnight Moon; to frolic alongside Henry and Mudge, a winsome boy and his jovial dog; to reflect on friendship with Frog and Toad; to root for the Baudelaire orphans as they confront A Series of Unfortunate Events; to minister to All Creatures Great and Small in the Yorkshire dales; to share Nobody Owens's journey through an otherworldly childhood in The Graveyard Book; and to board the Hogwarts Express at Platform 9¾ and be transported to magical mindscapes every bit as believable as our own.
Margaret Wise Brown, Cynthia Rylant, Arnold Lobel, Lemony Snicket, James Herriot, Neil Gaiman, J.K. Rowling, and many other master storytellers have helped me be a better mother by bolstering my creativity when it flagged, deflecting sour moods and lapses in patience, and offering countless paths to broader horizons for my kids as well as myself.
Paying it forward is the principal reason I volunteer for Page Ahead.
Unlike my own kids and me, many of the children Page Ahead helps are growing up in poverty, with little or no access to books they can call their own. Their caregivers may not be willing or able to read with them, or may lack confidence in their ability to make it a fun shared experience.
For me, the Story Time program has meant a joyful opportunity to continue to share with young children my love of reading, books, and stories, now that my son and daughter are both teenagers. Some Story Times go better than others. Some days can be challenging. However, I have never left my Story Time classroom without a smile in my heart. It makes me happy to think that I am offering these children some small measure of help as they learn to think of stories and books as friends: faithful, reliable, lifelong friends that can offer comfort, encouragement, laughter, inspiration, and adventure, all by turning a Page Ahead.
Would you like to become a Story Times volunteer, and bring reading fun and inspiration to children in need? Call or email Jacki Crowther at Page Ahead, 206-461-0123, jcrowther@pageahead.org
---