Connie Thompson – Living Life to the Fullest
October 1, 2012 at 12:00 a.m.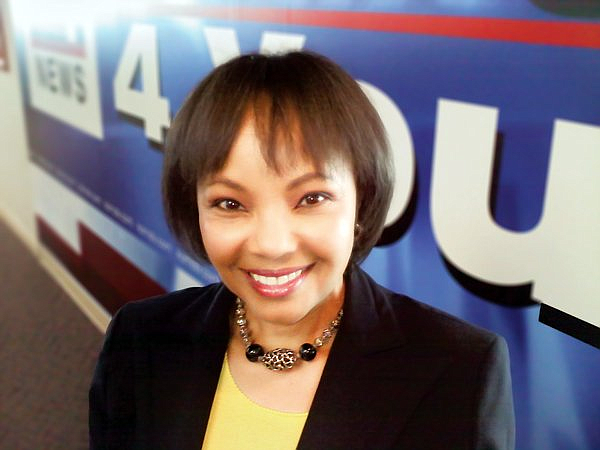 ---
"I embrace every single day I am on this planet and I want to make the most of every moment." – Connie Thompson 
As you learn about Connie Thompson and the inspiration she finds in her family's determination over daily struggles, these words gain even more meaning. The story of this warm and vibrant Emmy Award-winning broadcast journalist might just surprise you.

The 4' 11" dynamo is well-known for her commitment to raising consumer awareness. Her daily consumer segments on KOMO 4 News at 6pm are a Northwest staple. She is one of Seattle's television news veterans.

"I started at KOMO right out of college and have worked there ever since," says Connie. "I've been there 38 years this month.

"I've done just about everything at KOMO but have focused so many years on consumer issues – anything you need to know to avoid being taken advantage of and to spend money more wisely," she says. "I feel real good about my ability to track down the facts and find the people behind a particular problem. People can be cunning. The biggest scammers don't look like a scruffy photo on an FBI poster," she warns. "They look nice and trustworthy." She is proud when she is able to follow through and see justice served, and happy that her work helps people.
"I love to get an email or letter saying 'thank you so much – your story helped me avoid getting scammed.' That makes me feel good!"
The eloquent news professional and fierce consumer advocate spent her first dozen years in Wyoming.
"I know right away what people are thinking when they hear I'm from Wyoming… 'I didn't know there were any people of color in Wyoming.' But there are more than you would think. And as I like to say, there are not very many people in Wyoming!"
Connie, the oldest of four (two sisters and a brother), was twelve when her family moved to Portland, Oregon. "My mother worked for the Federal Aviation Agency (as it was called then) and they were closing the local office. She had a choice between Portland and Seattle. Since we kids had been to Seattle to visit relatives and it rained the entire time we were there, we chose Portland," she laughs.
She attended the University of Portland, where she originally thought she wanted to major in psychology, but her interest in broadcast journalism was sparked by her first jobs, starting with high school.
"I had a part-time job all during high school, first at a television station in Portland and then at a radio station. I was able to work at the radio station to pay my way through college."

When she graduated, her news director at the radio station gave her a lead on an entry level position at KOMO, where she was hired in 1974.

"Back then we had typewriters, ditto paper and noisy wire machines. We used construction paper and art supplies for graphics," she reports. "I basically learned my way from behind the scenes and from the ground up. I ripped and distributed wire stories for the reporters, and helped the producers write copy for the newscasts. When I started reporting, I was given a tape recorder and stopwatch and assigned the easy stories, the soft features."

Later she began to develop her own stories, and was assigned the education beat, a great fit, and not only because she had once considered becoming a teacher. "Education is one of my passions," says Connie. "I like giving people, and especially young people, the tools they need." Her dedication to making a difference has been honored by numerous national, professional and community groups, including the Totem Council of Girl Scouts and Big Brother Big Sisters of Puget Sound, which created an annual award in her name for her more than two decades of support.

She is quick to add her husband Don's name to the conversation of service. He, too, has been a longtime community volunteer.

How did they meet?

"That's a romantic story," says Connie. "My husband was in the Air Force and had just come back to the U.S after being assigned in the Philippines. Within a year after his return to the states, his commander asked him to represent the Air Force at the National Tuskeegee Airmen Convention in Seattle. This was back in 1984.

"I emceed one of the luncheons and was a guest at the gala – there was a band, it was a big to-do. Bob Hope was there. As I was leaving, this handsome man in military dress came up and complimented me on my work, then asked if he could buy me a drink and we sat and talked and talked and talked. He wanted to meet the next day before he left town, but I couldn't because I had a date. But we stayed in touch."

The following month he came back for a visit and went with Connie on a trip to Portland to meet her family. "When I introduced him to my mother, she asked, 'Connie, are you going to marry him?' " Even though it was so early in the relationship, her wise mother said, "Your dad always said, 'When you know, you know.' "

"On that drive back to Seattle, he asked me to marry him. He had a gold chain from the Philippines around his neck that he never took off, but he put it around my neck and said, 'When I take this back I am going to replace it with a ring.' We met in August and got married in November. That was 28 years ago this year."
The couple has no children together, but Connie is grandmother to Don's four grandkids. "I didn't have to do the hard work [of being a parent] but with the grandkids and my nephew's daughter, we have kids around us."

Family has always been an important part of Connie's life, even more so now that her mother is living with dementia. "It's hard to pinpoint when Mom first started having problems. There were signs to ignore or to make excuses for, but I think it has been going on for 15 years now. She will be 85 this year."

In retrospect, Connie realizes that her mother probably knew she was having serious difficulty well before her kids knew. "My mother was extremely intelligent and she was adept at coping – or faking it – so that everyone thought she was alright. It is a mean, tragic disease, and especially hard for those living alone. Kids think their parents are fine, and then they discover that everything is not fine."

Connie's sister moved back in to take care of their mother about twelve years ago. "She works fulltime plus she works long hours taking care of Mom. We pay caregivers so my sister can get some sleep at night." People dealing with a family member with dementia know, says Connie, it is very trying in every way: emotionally, financially, and otherwise. "We are so happy my sister is there to make sure Mom is safe and can still stay in her home."

Connie visits frequently to help, as often as she can. Her youngest sister, who lives in California, helps out with research and getting the information and other support resources they need. "We are the caregiving trio," says Connie. Sadly, her brother died twelve years ago, just short of his 43rd birthday, of a heart attack. "He had intended to go to the doctor the next day. Everyone, men especially, need to pay attention to what their body is saying," she advises.

"It is so important to take care of yourself. It is easy not to do it, to make excuses." She mentions that her grandmother had diabetes. "She was blind but she persevered and didn't let anything stop her. I know I have risk factors in my family. Taking care of ourselves may mean saying no to things we love. I love a good brownie," she admits, "but I also know I don't want to load up. I want to love my body."

For Connie, taking care of herself means exercise and cooking up a storm of healthy food. Exercise includes golf, yoga, and for many years she danced – tap and jazz. She also advises making time for what you enjoy.

In her spare time, Connie enjoys music, reading, making jewelry, interior design, gourmet cooking, and, of course, spending time with family and friends.

"I also enjoy gardening and being around the beauty the garden gives you... I guess my biggest challenge is to do nothing!" Oh, and did I mention that in the midst of everything else she earned her MBA degree from City University of Seattle, while working full-time during her early years at KOMO?

Connie believes in living life to the fullest, in no small part because of the inspiration she finds through her family. For example: "Right after Christmas my mother fell and fractured her pelvis. She was in the hospital for a week and then five weeks in rehab. She was stressed out because she didn't know what was going on, but we made sure that family was with her 'round the clock. She is pretty amazing," says Connie. "They told us that 80% of people her age and in her condition wouldn't be able to walk again, but my Mom wouldn't accept the word 'can't.' She bites her lips and keeps trying. 'Can't never did anything,' she says, and she'll go ahead and do it. Now she is walking again."

In the wake of their mother's relentless disease, the family takes comfort where they can. "She is still so bright. She'll correct your grammar just like she always has. But her memory is gossamer, it is turning into Swiss cheese," says Connie. "The mother we knew is not here with us. My sisters and I, our family, we have gone through so many phases of mourning – ongoing mourning. It is a long goodbye."

She credits the Alzheimer's Association's with providing information and resources, and helping the family learn how to cope. Her youngest sister has been especially helpful in researching what they need in order to take the best care of their mother.

"She is an amazing, amazing woman," says Connie of her sister. "She had a malignant brain tumor when she was quite young. Various doctors told her she wouldn't live long. And she can no longer walk. Her vision is impaired, and sadly, just this year an ear infection left her deaf. Yet she is part of our rock in helping Mom, finding out about health services, researching Medicare Part D... She is probably in chronic pain but she refuses to sit back," says Connie. "You count your blessings and she is part of my inspiration for that attitude. Life is too short to say, 'I can't' and wither away." Her sister holds a Master's degree in American Sign Language and she still tutors college students. "Her attitude is: 'My spine is going to bother me at home, so I may as well go out and get involved, join friends to help raise money for adults and children who are hearing impaired. Have fun. And seize every moment.' "

Connie talked a lot to her youngest sister about Kathi Goertzen, her colleague at KOMO who recently passed away after a long battle with recurring brain tumors.
You know, my dad died when he was Kathi's age. It is one of those surreal feelings. Kathi's desk is next to mine. Part of me knows Kathi is gone, but part of me says it is not possible. KOMO is like a family. We encourage each other, cheer victories, and share the heartbreak."

And although she wishes life's circumstances had been different, "We have learned to accept the challenges and to take them on," observes Connie. "My family has made a vow that our mother would always be our priority. The challenges have brought us closer together.
---