Planning an ice cream summer vacation
May 11, 2012 at 8:21 a.m.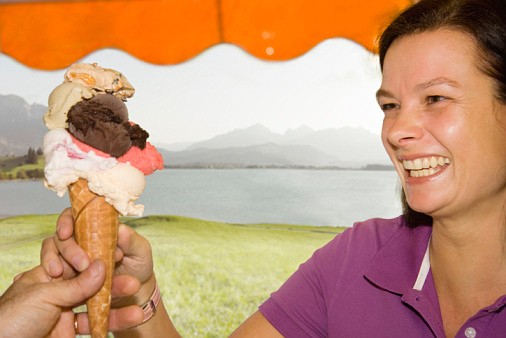 ---
It sometimes seems as though Mrs. Tony keeps the local ice cream company in business. At 72 years old, this young lady never fails to enhance supper with a dab of cookie-filled ice cream. It's her favorite treat -- that sweet creamy memory-maker. Sometimes, she even gets out to visit the local ice cream parlor to enjoy a cone of soft-serve. This year, Mrs. Tony plans to experience the pleasure of tasting world famous ice cream amidst the thrill of an old-fashioned ice cream festival.
Catch the Memories of World Famous Ice Cream
Image a vacation that includes a host of creamy summer delights provided by your favorite ice cream company along with a host of competitor creameries. Take an ice cream summer vacation that places you in the center of a U.S. ice cream festival.
Some Top Billings For U.S. Ice Cream Festivals
Austin Ice Cream Festival. Be there, August 15 th at Waterloo Park in Austin, Texas Enjoy world famous ice cream from local and national vendors. Get there early for a chance to participate in the ice cream eating contest. It's a wide-open weekend, complete with live music, the sweet frozen cream, and a few other special treats as well.
PS: It is all for the good of the community.
Boston Scooper Bowl. This one runs June 9 to June 11 at the Boston, Massachusetts City Hall Plaza. Billed as the largest of the all-you-can-eat ice cream festivals, the Boston Scooper Bowl features ice cream treats from nine of the nation's biggest ice cream company vendors. So, purchase a weekend pass. Eat all the ice cream you can hold, and work it off by taking a tour of the local Boston historical landmarks.
PS: Proceeds from the Bowl are donated to cancer research through the Jimmy Fund.
Big Scoop Ice Cream Festival. Check it our on September 6 th in Memphis, Tennessee at the AutoZone Park. Enjoy live music, special activities for the grandkids, and a whole passel of exciting ice cream focused contests. Eat. Drink. Be Merry. This ice cream festival features a full round of fun and musical entertainment.
PS: Proceeds from Big Scoop help benefit the Ronald McDonald House.
Content Provided by Spot55.com