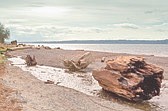 When WalletHub recently compared nearly 200 beach towns across the country utilizing 62 key indicators of livability, four towns in Washington made their top 100: Edmonds, Anacortes, Shoreline and Burien. While Burien doesn't come up in a lot of national Best Places lists, local seniors love its low-key attractions including beautiful Seahurst Park, dining in Olde Town and flocking to the Farmers Market.
Stories this photo appears in:

Northwest Prime Time's annual round-up of Best Places to Retire in Washington State is upon us. Reporting from the usual suspects— Forbes, MoneyWise, Kiplinger, Where to Retire, WalletHub, TopRetirements and others— shows Washington retirement destinations falling off many national lists.