The Sirs Robinsons: A tale of two remarkable people we met along the way
October 6, 2023 at 5:30 p.m.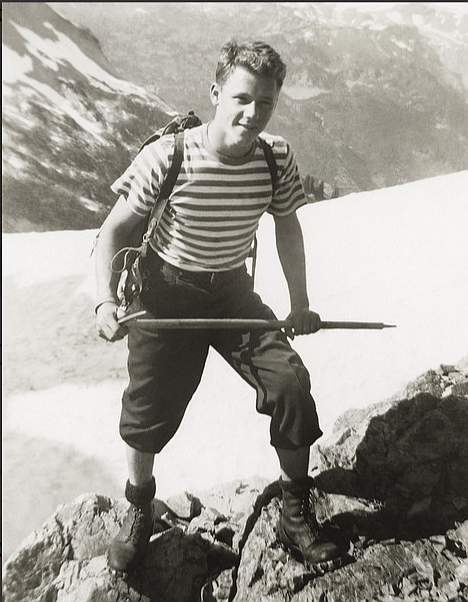 ---
...by Michelle Roedell, Editor, Northwest Prime Time
---
Very early on in our publishing career, we received a mysterious phone call from Chuck Robinson.
Chuck had an idea.
We'd never met him before and he was rather enigmatic on the phone; nevertheless, we were intrigued. He wanted to discuss the possibility of collaborating on a new project.
"Green," he muttered under his breath when we met in person. He said it while furtively glancing around the crowded restaurant.
As it turned out, a love of the environment was part of Chuck's DNA and he wanted to explore that love through a new publication focused on green living, conservation, and the great outdoors.
Chuck enjoyed hiking, skiing, camping, and backpacking. He was a lifelong mountaineer who, in 1957, made a first ascent with his climbing partner up Mount Rainier's last unclimbed ridge, the Kautz Cleaver on the mountain's challenging south flank. Chuck was known to say that any time spent in the mountains only added to your life's measure.
By the time we met Chuck, he was long retired from a fascinating career. His work in public service was honored with a Presential citation—among other roles, he served in the FBI, as a United States Marshal and Assistant Secretary of State in Olympia.  
Chuck was ready for a new challenge and wanted to continue making a difference in the world. We met back in the very early 2000s and a periodical for Northwest "greenies" didn't exist, as far as we could tell. (That explained his furtively uttered "green" – he thought it was such a great idea and he wanted to make sure no one else stole it out from under him.) Chuck liked the size and style of our senior newspaper and called to see if we would be his publishing partner.
We were thrilled with the thought of adding a new title to our vast publishing empire. (Ha Ha.) Plus, Chuck came armed with more than a great idea and financial backing. He came with his good buddy, Herb Robinson.
Herb Robinson was a highly respected, award-winning newspaper and television journalist. He'd been the longtime lead editorial writer for The Seattle Times. Before that, he spent many years at KOMO-TV News during the pioneering era of television. While at KOMO from 1953 to 1965, Herb was anchor, news director and on-air host. Bryan Johnson, senior correspondent for KOMO said of Herb: viewers "wanted someone they could respect — whether it was Walter Cronkite or Herb Robinson." Herb evoked that kind of respect for both his television and newspaper work. In writing a tribute to Herb, Erik Lacitis quoted Mindy Cameron, who had taken over for Herb as lead editorial writer for The Seattle Times. She described his skiing talents as a metaphor for his life: "He was a beautiful, graceful downhill skier. He was like that in the way he dealt with people, too."
Chuck's wife Penny recalls that the longtime friends met while Herb was covering her husband in a news story during his time as a public servant. I like to think that a shared love of the outdoors cemented that connection. 
Chris and I met with the Sirs Robinson a handful of times, including time spent at their homes. What a pleasure. We mulled over the new project, discussing the internal workings. Herb would, of course, oversee the editorial side of things but would leave the day-to-day tasks to me. After retiring from journalism, he'd turned his attention to fiction and had already completed two novels. Still, he was willing to throw his hat back into the periodical world; his mighty expertise would guide us and lend credibility to the new venture. Chuck would be the primary publisher, with Chris and I serving backup. Chris would focus on sales.
After 20 years the details remain murky, but the green magazine was not meant to be. My best guess is that the financial realities of launching a new publication put a damper on things. And, sadly, sometime after we started meeting, Herb was diagnosed with pancreatic cancer. He died in October 2003.
Chuck went on to live a long life and passed away at age 95 in March 2022. Forever the outdoor enthusiast, his celebration of life was fittingly held at The Mountaineers building. His obituary ended with the phrase: Plant a tree.
This entry is to celebrate the Sirs Robinson and the brief time we spent in their company. I imagine them resting in peace on a glorious mountaintop.  
Michelle Roedell can be reached at 
editor@northwestprimetime.com
.  
In case you missed them, you can catch up on past blog posts with the links below:
---