to slip, or not to slip
Sinister Slippers
Sharing Stories
May 25, 2022 at 5:50 p.m.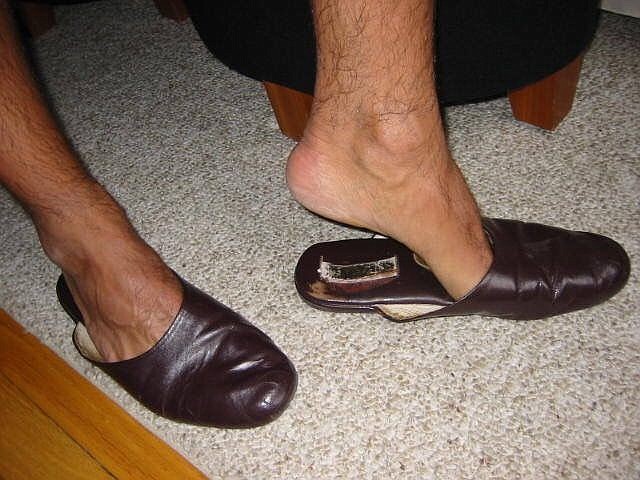 ---
---
"The Sinister Slipper" 
As I got up in the night to go to the pot,
my slipper attacked me. I kid you not.
I sat on the bed and looked at the beast,
not a worry in my head, not in the least.
Slipping my foot inside, it grabbed my toe,
making a loud pop, as I surveyed my foe.
I lifted my foot and yelled in pain,
while saying words most profane.
The toe turned swollen, black and blue,
as I thought of the moral of this story true.
Don't worry about traffic and things like that,
the bigger danger is a slipper attack.
As time goes on, I try to forget,
that fateful event I so regret.
But try as I may, I don't feel so chipper,
Just thinking about that sinister slipper.
Keith Wollen is a retired professor from Washington State University, where he taught and conducted research.
SHARING STORIES is a weekly column for and about the 50 plus crowd living in the Puget Sound region. Send your stories and photos to
ariele@comcast.net
. Tell local or personal stories; discuss concerns around aging and other issues; share solutions, good luck, and reasons to celebrate; poems are fine too. Pieces may be edited or excerpted. We reserve the right to select among pieces. Photos are always a plus and a one-sentence bio is requested (where you live, maybe age or career, retired status, etc.).
SHARING STORIES is featured on
www.northwestprimetime.com
, the website for Northwest Prime Time, a monthly publication for baby boomers, seniors, retirees, and those contemplating retirement. For more information, call 206-824-8600 or visit
www.northwestprimetime.com
. To find other SHARING STORIES articles on this website type "sharing stories" in the search function above.
View and download this publication.
---
Inspire Positive Aging Award Winners!
The recipients of Sound Generations' 2022 Inspire Positive Aging Awards were celebrated at a June 16 luncheon.
---
A Birthday Gift Safety Manuel
I'm sure most men would agree that buying a birthday gift for your wife is fraught with danger
---
Filipino Village and Senior Housing Community Opens
Seattle's Filipino Community Village and affordable senior housing project opened in June
---
Where in Washington?
And the winner is...
---
Mt Si at Midnight
My best friend, Miggs, loved to climb and coaxed me up anything that was a hill if she could catch me in an unguarded moment. I hated a stiff climb, as even in those long-ago days I was plagued by shortness of breath. She could talk me into the effort by reminding me of how wonderful the view would be from the top. I have always been a push-over for a view.
---