GONE WITH THE (So Sue Me, Margaret Mitchell) WIND
June 24, 2022 at 11:55 a.m.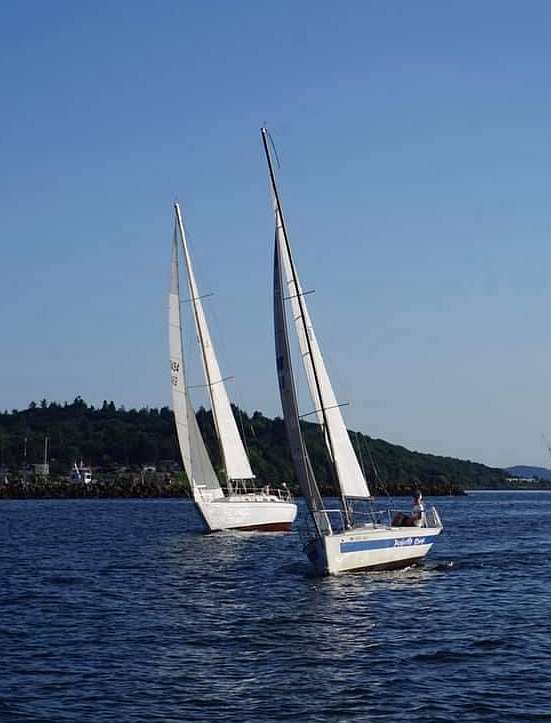 ---
---
Pat D'amico is a frequent light verse poetry contributor to Northwest Prime Time, and is occasionally moved to send an essay, which is often accompanied by one of her signature light verses

My son-in-law is a sailor. He competes in races around Puget Sound as well as the Lake Union Duck Dodge events in his 22 ft. sloop. He also crews on big boats in big races. He meets the elements head on: "Douse me with your best shot!" is his mantra.

He also is blessed with a terrific, self-effacing, sense of humor and often supplies me with "poem food." Occasionally, he replies in kind. When he was lamenting the painful loss of his favorite sailing hat overboard, one might rightly surmise that an admonishment for future reference would follow:


 


If you must sail out in a gale, please heed this cautionary tale
Because the wind does cruelly blow, dislodging any loose chapeau
To fiercely fling it in the drink where sadly, it is doomed to sink
Beyond the reach of jibe or tack or arms too short to snatch it back;
Unless by chance the fates allow that it should be fished out somehow
To sail another day instead a-top some other old salt's head.
Just bid farewell, eschewing rancor, and next time use your chin as anchor.


 


I bought him a new hat for his birthday, and he invested in a device with two sturdy clips on an elastic cord. His hat is now attached to his collar and this unfortunate episode will never be repeated.
Here is one of Pat D'Amico's recent light verses:

COMPLIMENTING CONTEMPORARIES
You look like you're just about forty.
Not a wrinkle, can anyone see.
You're lithe and you're slim and you're sporty—
Now it's your turn to lie to me.