The Wrought Iron Fence: Another layer of history
20th Anniversary of 9/11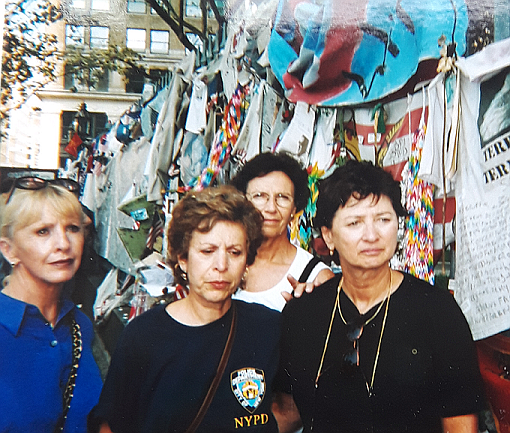 Suzanne Beyer of Bothell wrote a very touching piece about her visit to Ground Zero one year after 9/11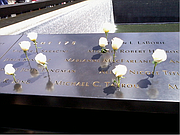 It was September 2002 and my 40
th
class reunion from Curtis High School, Staten Island.  Five of us classmates boarded the Staten Island ferry to pay respects at Ground Zero, before the evening reunion festivities began.
            The closer we walked to Ground Zero, the more pensive and quiet our animated chatter became. My hands sweat as I held my breath in anticipation of witnessing the horror of what I'd seen on T.V. a year prior.  A chain link fence separated us from the mammoth construction site that lay in front.  Construction workers moved dirt using heavy equipment as if they were building yet another downtown high rise. Only this time, the ground felt sacred.  I tried to visualize the World Trade Center that heart-wrenching 9/11 day, where almost 3000 innocent people were killed.  My heart and head just couldn't accept or comprehend such devastation. My emotions were at a loss, frozen.
            I looked behind me to the south side of Ground Zero to see a building-size poster that read, "The human spirit is not measured by the size of the act, but by the size of the heart."
            The poster's message echoed in my head as we crossed the street to nearby St. Paul's Chapel.  Although it had been a year since the terrorist attacks, St. Paul's wrought iron fence completely disappeared behind the make-shift memorial of world-wide tributes showing honor, love and respect for those souls lost.
            Flags from Great Britain and Canada joined a United States flag.  High schools displayed their condolences with banners, while tributes from nationwide fire and police departments reigned throughout the fence.  Visitors left caps, T shirts, cards and flowers.  People wrote messages on one 6-foot long American flag. One read, "Bless America!"  I tried to insert my tiny greeting on this flag.  There was barely room and I didn't want to block or cover up someone else's thoughtful condolences.
            This miracle 1774 chapel, the oldest church building in New York City that survived a massive city fire in 1776, remained intact, untouched by the horrific events of September 11th.  Only one, 100-year-old Sycamore tree fell on the chapel's grounds that fateful day.
            "The little chapel that stood," served as a safe refuge for first responders and volunteers working on "the pile" at Ground Zero.  Food, water, pews to sleep on, spiritual guidance and even foot messages in the booth where George Washington prayed helped ease their mental, emotional and physical stress.
            St. Paul's provided help and support for many months following and became a memorial inside as well as on the wrought iron fence outside. For hundreds of visitors wishing to pay their respects, St. Paul's offered a safe place to grieve, including our teary-eyed group of high school friends.  All nationalities, religions, walks of life united as one in an ocean of heartbreak and disbelief following that horrific September day.
            Historic St. Paul's Chapel, surrounded by its wrought iron fence, now housed another layer of history to never be forgotten.
MORE INFORMATION
*George Washington, first President of the United States, prayed at St. Paul's after taking his oath of office in 1789 at the Federal Hall on Wall Street.
*Funeral services took place at the chapel in 1831 for James Monroe, fifth United States President
Notables buried in St. Paul's Cemetery include:
*General Richard Montgomery – Major General Revolutionary War; Thomas Addis Emmet, Attorney General of New York State 1812; and there is a monument to Dr. William James MacNeven – Irish-American physician and Father of American Chemistry
*In 2002, the Mayor of London gave St. Paul's a gift of a bell, located in the cemetery behind the church.
Suzanne Beyer wrote a companion piece to this article. You can view it here:
Recollections of a New York City Police Officer | Northwest Prime Time | Serving Baby Boomers and Seniors in Seattle