The Mummy Went to Market
Sharing Stories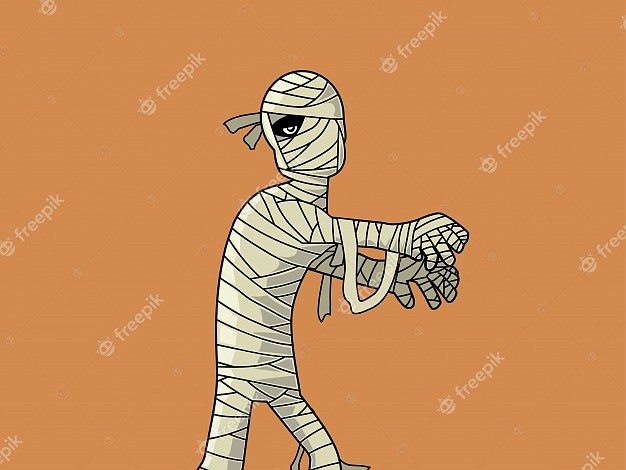 "The Mummy went to Market"
The mummy went to market.
Took his sarcophagus and parked it.
Parallel to the curb,
in our little suburb.
He got out…wrapped in cotton.
Most of it was rotten.
Entered through the open door.
We didn't know what was in store.
What was a mummy doing here?
He said, "Let me make this…very clear,"
as he spat out cotton threads,
all over our satin spreads.
"I want a pillow…full of down,
new cotton gauze…to wrap around.
I feel a breeze in between, so
I need cotton that is clean."
We filled his order; he paid with gold.
The coins he held in a fold
where his pants pocket would be,
if he'd had those on, you see.
From his feet to his head,
he was wrapped in cotton thread,
which were waving up and down,
and were such a sickly brown.
He went into our dressing room.
But did not come out all that soon.
We heard some grunting, horrible sound.
When he came out, oh, what we found!
That mummy was looking spiffy,
Certain to turn some heads in a jiffy.
He was headed for his ride,
to drive where he could hide.
We probably  won't see him anymore,
not inside our little store.
But we know he'll rest indeed.
His cotton gauze is guaranteed!
Joseph Edward Sykes works and writes in Aberdeen, Washington. Find more of his work:   www.Facebook.com/JESykesPoetry. Please reference his name when ordering books on Amazon.
SHARING STORIES is a weekly column for and about the 50 plus crowd living in the Puget Sound region. Send your stories and photos to
ariele@comcast.net
. Tell local or personal stories; discuss concerns around aging and other issues; share solutions, good luck, and reasons to celebrate; poems are fine too. Pieces may be edited or excerpted. We reserve the right to select among pieces. Photos are always a plus and a one-sentence bio is requested (where you live, maybe age or career, retired status, etc.).
SHARING STORIES is featured on
www.northwestprimetime.com
, the website for Northwest Prime Time, a monthly publication for baby boomers, seniors, retirees, and those contemplating retirement. The newspaper can be found in the greater Seattle area and other Puget Sound locations. For more information, call 206-824-8600 or visit
www.northwestprimetime.com
. To find other SHARING STORIES articles on this website type "sharing stories" in the search function above.