Celebration of the Bison
Sharing Stories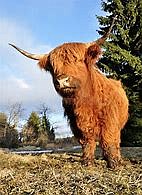 Celebration of the Bison

They called him the Red Eyed Bison. If he is seen early in spring, crops would be weak, but if he is seen in the coldest, darkest days of winter, the crops were vital. Rain was plentiful and sweet, the sun warm and pleasant, kissing the crops with tenderness.

But beware the Trickster. If he is seen on the back of the Red-Eyed Bison, the wind would blow the sun scorched soil, scattering newly planted seeds for miles. Then the nonstop rains turned the valleys into mud so deep it seemed as if the earth was eating away at itself.

Trickster can only be seen on the back of the Red Eyed Bison as the Bison is running through the moon's shadow when the moon is blood red and so large that the it seems to be touching the earth. Trickster is named so because he changes every time he has been seen riding the Red Eyed Bison. Or Trickster rode a Bison—not yet red-eyed—and tried to trick people into believing the next year's crops would be lost.

So, the people of the plains celebrate the Bison every year by honoring the Bison's family.

A celebration is had by sharing our bounties with each other and protecting the land that the Bison roam. We hope this will help the Bison become stronger and shake the Trickster from his back and bless our crops.

That is why we celebrate the Bison.

Ariele: Wow. I love it.

Mary Boley is a Westport, Washington inhabitant and did this great Folktale for Ariele's Short Stories session #9.

SHARING STORIES is a weekly column for and about the 50 plus crowd living in the Puget Sound region. Send your stories and photos to ariele@comcast.net. Tell local or personal stories; discuss concerns around aging and other issues; share solutions, good luck, and reasons to celebrate; poems are fine too. Pieces may be edited or excerpted. We reserve the right to select among pieces. Photos are always a plus and a one-sentence bio is requested (where you live, maybe age or career, retired status, etc.).
SHARING STORIES is featured on www.northwestprimetime.com, the website for Northwest Prime Time, a monthly publication for baby boomers, seniors, retirees, and those contemplating retirement. The newspaper can be found in the greater Seattle area and other Puget Sound locations. For more information, call 206-824-8600 or visit www.northwestprimetime.com. To find other SHARING STORIES articles on this website type "sharing stories" in the search function above.