Tugboat Annie & Seattle's Silver Screen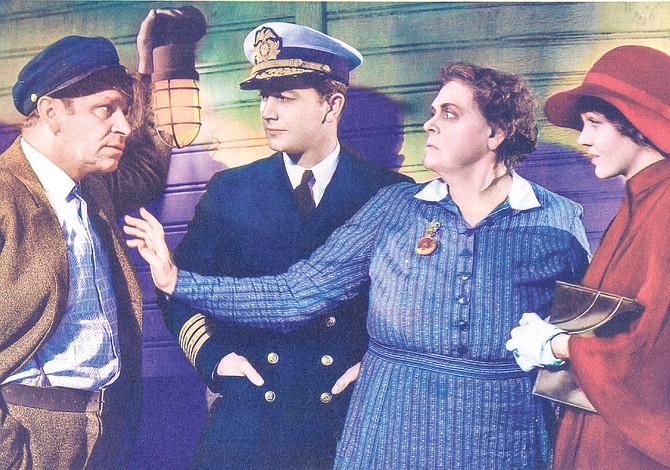 MGM decided to film some of the sequences on location in Seattle. They used a Foss tug, now called the Arthur Foss, in the film, which was shot on Lake Union and Elliott Bay. They invited 5,000 Seattleites to create a crowd scene that was filmed at the Bell Street pier. Even the mayor, John Dore, showed up as an extra. In July 1933, the world premiere of Tugboat Annie took place not in Hollywood, but at Seattle's sold-out 5th Avenue Theatre. The movie became one of the top box office hits of the year. It was the first major Hollywood movie ever shot in Seattle.
It's hard to imagine, given today's standards, a hit film starring two aging, overweight actors competing successfully against more glamorous films featuring Clark Gable, Joan Crawford, Gary Cooper or a new spectacle by Cecil B. DeMille. But Tugboat Annie embodied the can-do spirit of the Depression era, blue collar devotion to work and family that could redeem the working class and help America out of its economic morass — and do it all with good humor.
The hit film spawned two sequels — the first in 1940 co-starred Ronald Reagan. Dressler herself died not long after the original Annie film, and she was replaced by others. Annie was also featured in a syndicated Canadian TV series in the late 1950s. That's how I came to know her, as a boomer in front of the new boob tube. But Annie's influence was felt for generations. School kids made a jump-rope rhyme out of her, the Pulitzer Prize winning poet Gary Snyder, who grew up in Lake City, admitted to being an avid Annie fan when he was growing up.
The movies made Annie and Secoma — Seattle, Tacoma and Puget Sound — widely known, and captured an aspect of the city that is still familiar. One passage from a story caught the atmosphere perfectly:
"Tugboat Annie sailed out of the room and down the stair to the street. Before her through the curtain of rain were sprawled grimy warehouses, railroad sidings, freight sheds, and the masts and funnels of shipping.… The air, though murky and smelling of fog and smoke, steam and tidewater and wet pavements, was laced with the damp freshness of a sea wind."
From such writing you know that Norman Reilly Raine knew this town. That murk and smell and sea wind can still be inhaled today.
Raine left Seattle and moved to Hollywood and went on to become an Oscar-winning screenwriter. Annie has fallen into obscurity, but she deserves rediscovery as a character who embodies an independent, compassionate, working class woman making her way through hard times with humor, smarts and guts. Someone who can teach us to beat the bullies of today.
Listen to Knute Berger tell Tugboat Annie's story and see historic photos at https://crosscut.com/video/mossbacksnorthwest/how-tugboat-annie-pulledseattle-silver-screen