The Folksy Legacy of Vivian Williams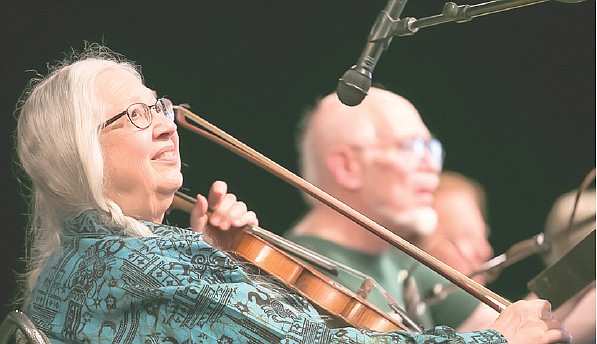 For the last 50 years, the Northwest Folklife Festival has brought music and folk traditions to the heart of Seattle. Living Legacies is a new podcast that celebrates Folklife. The first program features festival co-founder, Vivian Williams, who is recognized as a master of Celtic, old-time and bluegrass-style fiddling.
"I'm Vivian Williams and my late husband, Phil Williams, was one of the principal founders of Folklife. But I've played there just about every year since it was founded," she told Kelli Faryar, Folklife's Executive Artistic Director.
Vivian recounted a memory from junior high that connected to her future career as a fiddler: The school's orchestra leader was also her violin teacher. "He stopped the orchestra and points at me and says, 'Vivian, stop tapping your foot. You look like some kind of old-time fiddler.' And I was mortified, mortified," she laughs. "But maybe it was some kind of cosmic thing." At the time she was studying classical music and didn't have any idea of what 'fiddling' meant. "Fiddling was something you saw in a Bugs Bunny cartoon..."
Vivian later attended Reed College, where on her very first day she met her future husband. "Phil was thoroughly into the folk music revival," she recalls and tells the story of how Pete Seeger had come to Reed, inspiring Phil to immediately buy a banjo. "I got sucked into that orbit," she says. After college, Vivian and Phil married and moved to Seattle.
"Meanwhile, we started going up to Darrington because they didn't have a fiddler for their band. I wasn't any good, but what the heck." She fondly describes the folks there as hillbilly types and credits them for turning her musical life around.
At about the same time, the National Park Service and National Festival Association wanted to encourage festivals in the Western part of the country. They contacted Phil and the rest, as they say, is history. "We figured, okay, this is going to be a flash in the pan, you know, two or three for four or five years. And that will be it." Fifty years later, Folklife is still going strong.
"Phil came up with Folklife as sharing; no one gets paid and no one pays to get in," says Vivian. "After your performance, you give information about how someone else can get into that activity." This philosophy provides opportunities to bring young people into the folklife culture.
Vivian says it is important to pass on stories, songs, culture and traditions to younger people. "That is just how human beings are. That is what makes humans human."
The Living Legacies Podcast is brought to you by Northwest Folklife and Jack Straw Cultural Center. Listen to Vivian's interview at www.nwfolklife.org/blog/50yearsofnwfl-vivianwilliams.html