Mom was Funny
Sharing Stories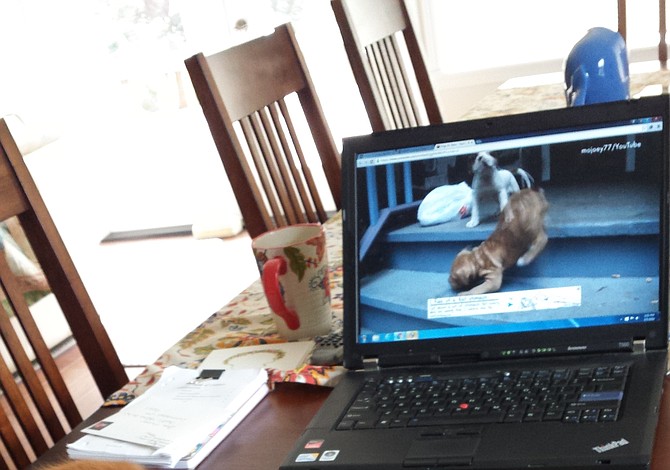 Mom and Dad raised four girls, each kid only 15 months apart, mom still working as a nurse between kids. Mom's idea of preventing the spread of disease from kid to kid, such as mumps, measles, or chickenpox, exposed the first kid to get the disease to all the other kids. One of my favorite childhood photos, four fat-faced little girls sitting on Mom's lap. Yep, all had the mumps.
Mom was determined to have her girls know their family in Ohio and visit her beloved Kelleys island. Dad was not much of a traveler. Mom was on her own with four girls traveling across the country by train or a not so reliable station wagon. The first time traveling by train, her girls were two, three, four and five years old. The last time, she traveled with her girls was by car, a station wagon. Her girls were 13, 14, 15, and 16. The oldest kid having her drivers' license shared the driving. Mom fell asleep when my sister was driving, faking sleep part of the time to keep her sanity. The speed limit was not an option for a 16-year-old, but sneaking a smoke was.
Money was tight, so we slept in the car most of the trip or at a campground. One night we rewarded ourselves with a motel room because it was in the 90s, no air conditioning in the car. So, we traded a dinner out for air conditioning and a real bed. Dinner was the best hot dog and cool aid we ever tasted.
Mom passed away, not knowing her girls. She had Alzheimer's but never lost her sense of humor. Her girls were visiting her one day, and we asked her to tell us our names. Mom looked at us and said, "Well, if you don't know, I'm not going to tell you." Then she giggled.
Mary Boley is a retired Electrical Inspector who has lived in Washington all her life. She attended Rainier Beach High School and worked for the City of Seattle for 33 1/2 years. She did this piece in response to an exercise in Ariele's online Humor Writing class.
SHARING STORIES is a weekly column for and about the 50 plus crowd living in the Puget Sound region. Send your stories and photos to ariele@comcast.net. Tell local or personal stories; discuss concerns around aging and other issues; share solutions, good luck, and reasons to celebrate; poems are fine too. Pieces may be edited or excerpted. We reserve the right to select among pieces. Photos are always a plus and a one-sentence bio is requested (where you live, maybe age or career, retired status, etc.).
SHARING STORIES is featured on www.northwestprimetime.com, the website for Northwest Prime Time, a monthly publication for baby boomers, seniors, retirees, and those contemplating retirement. The newspaper can be found in the greater Seattle area and other Puget Sound locations. For more information, call 206-824-8600 or visit www.northwestprimetime.com. To find other SHARING STORIES articles on this website type "sharing stories" in the search function above.