Meet the celebs of Saguaro National Park
Travels with Deb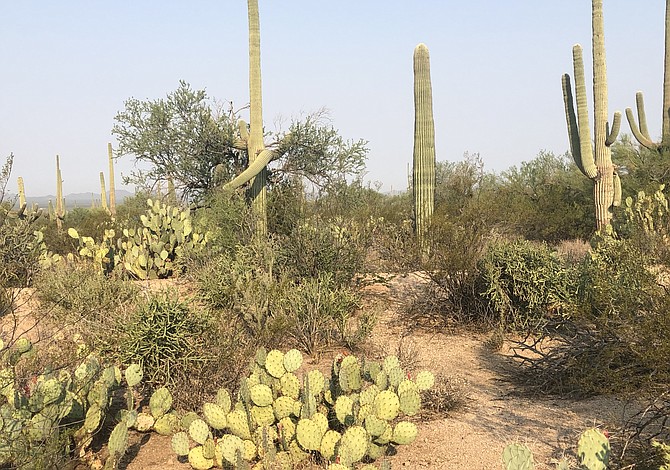 Humans, too, reap the benefits of this fruit. They harvest it when ripe and make syrup and jelly from the pulp.

Saguaros typically die of old age, but lightning, wind, freezing, deadly fire and extended drought can hasten their demise. After it dies, the woody ribs can be used to construct roofs, fences and furniture.
When it comes to touring the park and you're short on time, focus your energies on one of the two sections. The West boasts large dense strands of saguaros for a picturesque saguaro forest, whereas the East is larger and more mountainous, offering more diversity in scenery and wildlife. Both have scenic drives and hiking trails.
I opted for the West District and took the Bajada Loop Drive. This five-mile unpaved road offers nice views of the valley, and of course, saguaros as far as the eye can see. At various junctures, you can get out and take one of the trails for an up close and personal experience with the landscape.
The Desert Discovery Trail, just past the Visitor Center, features some ginormous saguaros, and has interpretive signs about the animals, plants and ecology of the Sonoran Desert. Another, the Valley View Overlook Trail, passes through two washes and has a very gradual ascent to a ridge, leading to a panorama of the Avra Valley and Picacho Peak.
I was very surprised to discover petroglyphs in this park. A short trail to Signal Hill leads to a boulder covered summit with dozens of drawings etched into rock. They date from the Hohokam period, 450-1450 A.D. and range from humanlike forms to abstract shapes. Scientists don't know their exact meanings and whether they were used for communication, in ceremonies, or as artistic expression.
All sorts of creatures make their home in Saguaro National Park. If you're lucky, you might see a Gila Monster or Desert Tortoise, or even a Javelina roaming the desert floor. Further up in the mountains there are Coati and black bear.
Although I didn't spy any of the above, I did spot a rattlesnake basking in the sun in the middle of the road. I got out for a cautious look at this handsome guy, but moments later, a park ranger arrived and gently "encouraged" the snake to find another, less precarious hangout.
If you go:
Debbie Stone is an established travel writer and columnist, who crosses the globe in search of unique destinations and experiences to share with her readers and listeners. She's an avid explorer who welcomes new opportunities to increase awareness and enthusiasm for places, culture, food, history, nature, outdoor adventure, wellness and more. Her travels have taken her to nearly 100 countries spanning all seven continents, and her stories appear in numerous print and digital publications.