Find Insight and Inspiration in a Labyrinth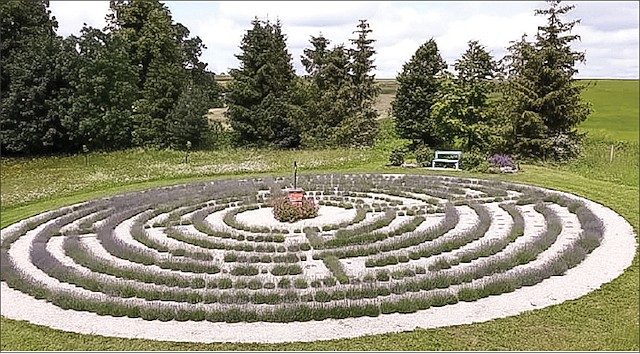 This year, we have had to learn to embrace the hearth and assume a homebody mentality. For many, the adjustment to this lifestyle change has been difficult. But, along with the challenges, we are also finding silver linings in the form of opportunities to discover and rediscover our passions. Some, for example, are becoming galloping gourmets and organic gardeners; others are gaining proficiency in a foreign language or experimenting with new ways to express themselves artistically. And there are those who are exploring different methods to exercise both body and mind.
One woman I know decided to create a labyrinth on her property. A labyrinth, not to be confused with a maze, is a pathway comprised of concentric circles that wind to a center, then back out again. A maze, however, has several different paths heading toward the center. Labyrinths date back four thousand plus years. They were an ancient practice, developed and used by many faiths as a walking meditative tool, and were often the site of rituals and ceremonies.
Labyrinths can be found all over the world—in churches, at parks and schools, outside museums, in forests and at private homes. You'll find them chiseled on stone, carved on walls, made into mosaics, stamped and imprinted on coins and jewelry, sewn into textiles, planted in gardens and set into floors. The traditional way to walk a labyrinth is to begin at the clearly indicated entrance and proceed along the path, which is often lined by stones. When you reach the center, you're halfway; it's time to turn around and return to the start.
There's no set pace when walking a labyrinth. Nor do you have to have a specific aim or purpose for your journey. The walk offers a chance to get in touch with your inner thoughts, be present in the moment, release emotions or gain clarity into a particular problem. Additionally, it can provide an opportunity to clear and quiet your mind.
Though the labyrinth is most often used as a tool to achieve spiritual and psychological benefits, it is also viewed as an art form. The labyrinth has intrigued and inspired artists for years; many regard it as a symbol of human inventiveness and imagination, rife with hidden meanings. Entire exhibits have been devoted to interpreting the labyrinth, both literally and figuratively.
There are dozens of labyrinths in the Puget Sound region, many which are free and open to the public. A number of them are located on church properties or in city and county parks. In Seattle, for example, there's a labyrinth at Seattle Center at the entrance to the The Museum of Pop Culture (formerly Experience Music Project). There's also a well-known one in front of St. Mark's Episcopal Cathedral. Those who live in Pierce County and frequent Fort Steilacoom Park are probably familiar with the labyrinth at the start of Waughop Lake Loop Trail. And if you're in the vicinity of University Place, you'll discover one at Chambers Creek overlooking the playfields. Walkers and cyclists in Snohomish County might be aware of the labyrinth in Lebanon Park, next to the Centennial Trail in downtown Arlington. The one behind Alban's Episcopal Church in Edmonds, however, may not be on most people's radars. Its unique feature is that it's etched in grass. On the Eastside, you'll find labyrinths at Kirkland's Edith Moulton Park and on the grounds of such churches as Wooden Cross Lutheran in Woodinville and Bothell United Methodist Church.
If you're interested in joining other labyrinth aficionados, check out the Labyrinth Society, an organization comprised of a diverse group of individuals from all over the world. Members give workshops, hold labyrinth walks and help create labyrinths at schools, hospitals, businesses, prisons and other institutions. For more information, visit www.labyrinthsociety.org.