Poor man's asparagus: winter leeks in the garden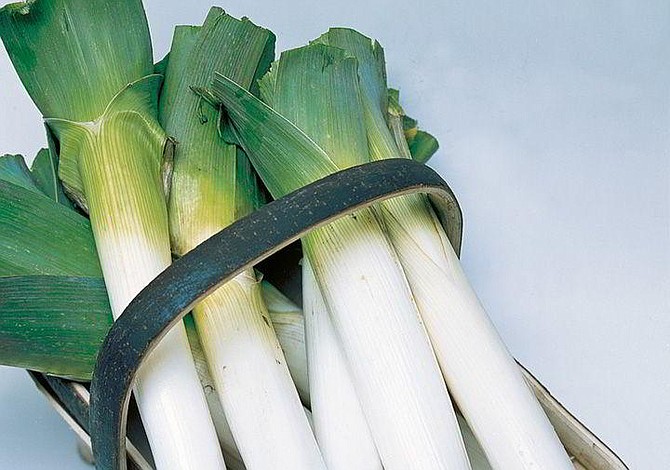 One of my favorite veggies in my winter garden is leeks. I hardly notice them during the summer, but at this time of year they shine a wonderful soft green and white with their ladder-like leaves growing up the stems. Like a giant green onion, leeks somehow manage to make it through most winters. You can pull the fleshy, thick stems out of the ground until it's freezing outside.
Leeks are high in vitamin C, vitamin A and folate, and their flavor is different enough from onions to make them a welcome addition to the vegetable palate of winter. I use winter leeks instead of onion in recipes that call for green onion, and often instead of white or yellow onion.
With leeks, use the bottom half to two-thirds. Reserve the upper, tougher dark green leaves for making low-sodium broth. For this, add the leek leaves, mushrooms, leftover chicken, bay leaf and black peppercorns to a pot of water, and simmer for an hour. Strain and freeze or use in soup right away.
The French call leeks "poor man's asparagus" because you can cook them the same ways: boiling, steaming or roasting. I like to sauté them with toasted nuts and add them to quiches or stir into pasta.
Let's not forget the classic, potato leek soup. It is like clam chowder without the clams although, of course, you can add them. Try simmering leeks and potatoes in a slow cooker, and you will come in from a cold winter day to wonderful steaming chowder; serve with crusty whole-grain bread.
Pasta with caramelized leeks and hazelnuts
3-4 leeks
1 tablespoon butter
1-2 cloves garlic, minced
½ cup hazelnuts or walnuts, coarsely chopped
2-4 tablespoons of basil pesto
Cut the leeks into 1-inch pieces — up to where the leaves get tough. Put pasta on to boil. Save the upper dark leaves to add to soup stock. Sauté the leeks and butter in a skillet until transparent. Add the garlic and nuts and continue to sauté until leeks are slightly caramelized. Drain pasta, toss with leek-nut mixture and serve with basil pesto. Serves 4.
Nutritional information:
Calories: 441, Carbohydrates: 57 grams, Protein: 11 grams, Sodium: 85 milligrams
Slow cooker potato leek chowder
5-7 leeks, about 2 pounds, sliced
3 tablespoons butter
5 potatoes, cubed
4 cups homemade low-sodium broth (using leek tops) or canned low-sodium vegetable broth
1 cup half-and-half or yogurt
In slow cooker, add leeks and potatoes to broth. Simmer about eight hours on low setting, until potatoes are very tender. For a chunky soup, add half-and-half and then heat on low for about 30 minutes. For a creamy soup, use an immersion blender to blend the soup, or carefully put soup in food processor or blender and mix until smooth. Return to slow cooker and heat with half-and-half for about 30 minutes. Serves 8.
Nutritional information:
Calories: 226, Carbohydrates: 34 grams, Protein: 6 grams, Sodium: 106 milligrams
[Katy G. Wilkens is a registered dietitian and department head at Northwest Kidney Centers. The National Kidney Foundation Council on Renal Nutrition has honored her with its highest awards for excellence in education and for significant contributions in renal nutrition.]