Enjoy hot summer nights with simple, cool salads
Grab fruits and veggies from your garden, a farmer's market or local fruit stand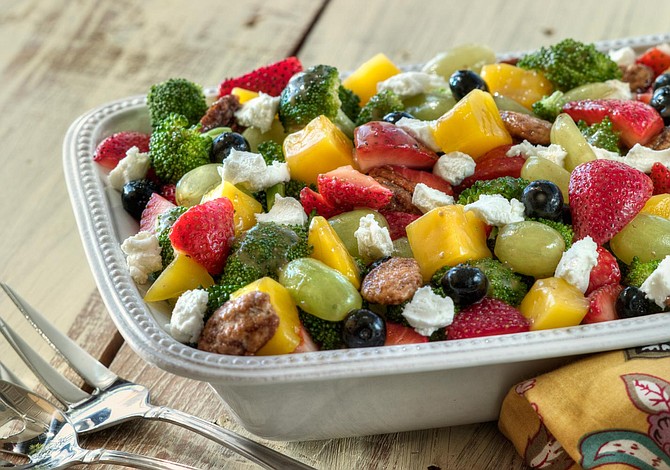 It has been so hot lately in my kitchen, which is usually my favorite place, that I have not wanted to go near it. Instead I have been spending more time in my other favorite place - my garden. This leads me to harvest more produce, which I then have to cook, becoming a catch 22. So I've gone back to an old summer standby: salads.
With just a bit of planning, you can make a meal for yourself, family and friends while keeping your cool. The salad meals below are refreshing, healthy, and of course, low in sodium.
My rice cooker is a great tool for hot days when I don't want to go near the stove. Throw in some whole grains like brown rice or farro, add water, hit the button and walk back out to the deck. There, half of dinner is done.
The other half is fresh veggies and fruits from my garden. If you don't have a garden, head for the closest farmer's market, or check out your local fruit stand. Buy cherries or peaches from a street-corner vendor or ask your gardening friends to pass on some produce to you. Chances are they have a few zucchinis to spare!
Broccoli, farro and dried cherry salad
1/2 cup farro
1 cup water
4 cups broccoli florets
1 red pepper
1 purple onion
1 jalapeno pepper, cut finely
2 mangos
1/4 cup mayonnaise
½ cup sour cream
½ cup dried cherries (or raisins)
1/2 cup chopped fresh cilantro
3 tablespoons lime juice
1 teaspoon Worcestershire sauce
1 teaspoon cayenne pepper (to taste)
Put farro in rice cooker, add water, turn on. Once done, place in freezer or refrigerator until chilled. You can cook the night before. Chop vegetables and mango. Add to chilled farro. Add mayonnaise and sour cream a bit at a time, until farro is covered but not too much. Mix in remaining ingredients. Chill until ready to serve.
Nutritional information (not including any meat):
Calories: 229, Carbohydrates: 36 grams, Protein: 4 grams, Sodium: 82 milligrams
Greek salad with peaches 
I really try to avoid salt, as everyone should, but a Greek salad without salty olives is difficult. You can try pickling grapes, which make a very acceptable substitute. If you don't have time, choose feta cheese and leave out the olives, or use a few small olives and switch to goat cheese. Either will be delicious and lower in sodium. 
2 pounds fresh, ripe peaches (or use half cherry tomatoes and half peaches for more color)
¼ cup fresh basil
½ purple onion
1-2 cucumbers
1/3 cup to ½ cup olive oil
2 to 4 tablespoons fruit or herb or white balsamic vinegar
½ to 1 cup goat cheese
About 3-4 small Greek olives per person 
Cut peaches or cherry tomatoes in half. Cut basil into thin strips. Dice onion. Peel cucumber every other inch with a vegetable peeler, so it looks striped. Then cut coins, and quarter them. Combine ingredients and toss with olive oil and vinegar. Taste and add more oil or vinegar, depending on how sweet or tart the tomatoes are. Scatter dime-sized pieces of goat cheese across the top, and serve with a few olives.
Nutritional information:
With goat cheese and olives: Calories: 218, Carbohydrates: 13 grams, Protein: 6 grams, Sodium: 258 milligrams
With feta cheese and no olives: Calories 190, Carbohydrate: 13 grams, Protein: 5 grams, Sodium: 282 milligrams
[Katy G. Wilkens is a registered dietitian and department head at Northwest Kidney Centers. The National Kidney Foundation Council on Renal Nutrition has honored her with its highest awards for excellence in education and for significant contributions in renal nutrition. She has also been awarded the Medal of Excellence in kidney nutrition from the American Association of Kidney Patients.]
Eating Well, Living Well classes
Katy leads a team of registered dietitians that teach FREE nutrition classes at convenient times and locations around Puget Sound. The Eating Well, Living Well classes teach people how to eat healthier to slow the progress of kidney disease and postpone dialysis. Studies show that working with a registered dietitian can postpone dialysis for as long as two years. Learn more at www.nwkidney.org/classes.