Hats off to history and innovation at the Royal Gorge Bridge
Travels with Deb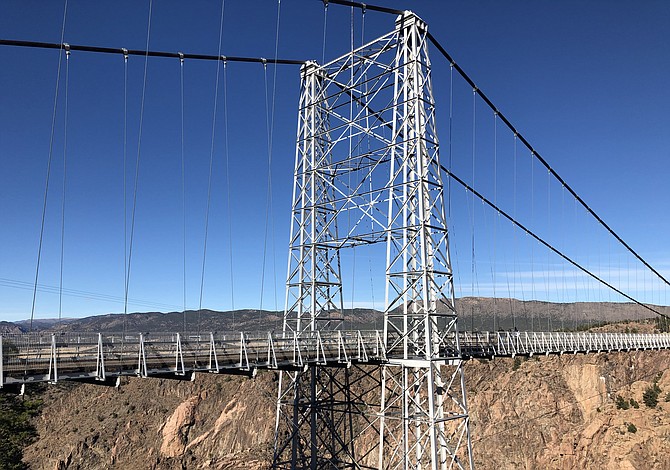 Take your time as you stroll across this manmade wonder and stop to read the placards that provide several historical bits of information. There are also signs and flags along the way, marking each of the fifty states (the flags are only up from Memorial Day to October).
Photo opps are plentiful of the bridge, the dramatic mountain vistas, the carved walls of the steep gorge and the Arkansas River below. Look through the small cracks between the planks for an eerie view into the shadowy abyss.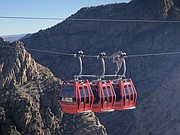 Once you're on the other side, make sure to go to the Plaza Theater for a short film on the history of the bridge and gorge. There are also original artifacts and photos in cases lining the walls of the room. Among them are pictures of the damage to the Royal Gorge Park from the terrible 2013 wildfire.
The fire started west of the bridge and jumped the walls of the gorge. It destroyed forty-eight of the fifty-two structures in the park. The bridge, however, remained stalwart – only about a hundred of its boards were scorched and needed to be replaced.
The park was rebuilt and nearly two years later, it officially reopened with a grand ceremony attended by community members and dignitaries.

Park admission includes an Aerial Gondola ride, which offers another vantage point of the bridge and its surrounding scenery. For an additional cost, you can amp up the adrenaline and soar above the river on the gravity-defying Cloudscraper Zipline, the highest zipline in the country. Or extend over the edge of the gorge on the Royal Rush Skycoaster, which can reach speeds of up to fifty miles per hour.
Those interested in a different type of challenge might want to try the Royal Gorge Via Ferrata. This is a guided mountaineering experience, where you'll hike and scale the granite walls via a system of steel cables that are fixed to the rock.
Kids will find an attraction of their own at the Tommy Knocker Playland. It's a haven of activity with ropes, slides, nets, tunnels, a vintage carousel and more.
Debbie Stone is an established travel writer and columnist, who crosses the globe in search of unique destinations and experiences to share with her readers and listeners. She's an avid explorer who welcomes new opportunities to increase awareness and enthusiasm for places, culture, food, history, nature, outdoor adventure, wellness and more. Her travels have taken her to nearly 100 countries spanning all seven continents, and her stories appear in numerous print and digital publications.