Combing Fleas
Sharing Stories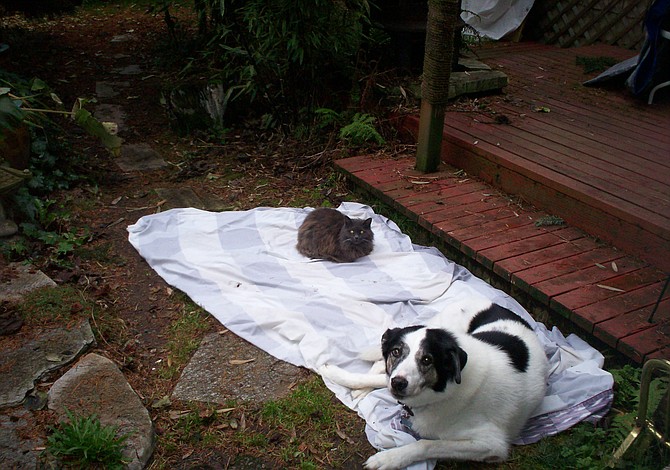 Combing Fleas
My elderly pets are suffering from this year's excess of fleagles, in spite of being on Frontline and our thorough Borateem environment cleans. So, I'm reduced to daily or more sweeps of fur. The feral rescue cat puts up with about three swipes before she's done with it, while the dog gets the Full Monty. He thinks of grooming as extended petting time and loves the attention and seems to recognize that he feels better afterward.
A few days ago, during the Fully Monty, the cat became worried about the procedure. Surely, the dog didn't want to be flea combed, since she doesn't like it herself.
First, she watched with concern, then approached Aladar's rear section, where he had opened a spot on his shin by chewing.
Morphy crept closer and closer to the hind quarters, then tentatively put her paw out toward the flea comb. Maybe she could get me to quit. Maybe the dog was just too stupid to stop me.
Then, with exaggerated trepidation, she lowered and turned her head, slowly bringing it to Aladar's tailbone where she gently pushed her ear and jaw into a love rub. She repeated this, then contemplated the haunch again carefully.
What more can I do? you could hear her thinking. Certainly, there's a better, less painful, way to do this process than with that nasty comb.
Again, with extreme gingerly caution, she targeted a spot fat with fur, drew back her lips across her teeth, and stuck her nose in to bite—hopefully the offending fleas.
At this point, the dog turned unappreciatively to growl at her, and I intervened.
This was so touching, but it reminded me of times when I've seen people mistakenly try to stand up for someone.
I'm reminded of the Young Frankenstein movie, when Peter Boyle (the monster) is struggling without success to climb up over the edge of the roof. Teri Garr rushes to help him, but Gene Wilder stops her saying, "No! He wants to do it himself." Peter Boyle throws him a confused look and continues to struggle…obviously would have appreciated the hand up.
Myself, I'm like the dog—and Peter Boyle: If I need help, I ask for it, pay for it if necessary, and enjoy the attention. If any fearful cats try to save me from help, I thank them for caring…and then bark them off.
Ariele Huff has a new outdoor Aberdeen cat since this story, but Sox, too, is suffering from fleas this year.
SHARING STORIES is a weekly column for and about the 50 plus crowd living in the Puget Sound region. Send your stories and photos to ariele@comcast.net. Tell local or personal stories; discuss concerns around aging and other issues; share solutions, good luck, and reasons to celebrate; poems are fine too. Pieces may be edited or excerpted. We reserve the right to select among pieces. Photos are always a plus and a one-sentence bio is requested (where you live, maybe age or career, retired status, etc.).
SHARING STORIES is featured on www.northwestprimetime.com, the website for Northwest Prime Time, a monthly publication for baby boomers, seniors, retirees, and those contemplating retirement. The newspaper can be found in the greater Seattle area and other Puget Sound locations. For more information, call 206-824-8600 or visit www.northwestprimetime.com. To find other SHARING STORIES articles on this website type "sharing stories" in the search function above.