There's plenty good about the Badlands!
Travels with Deb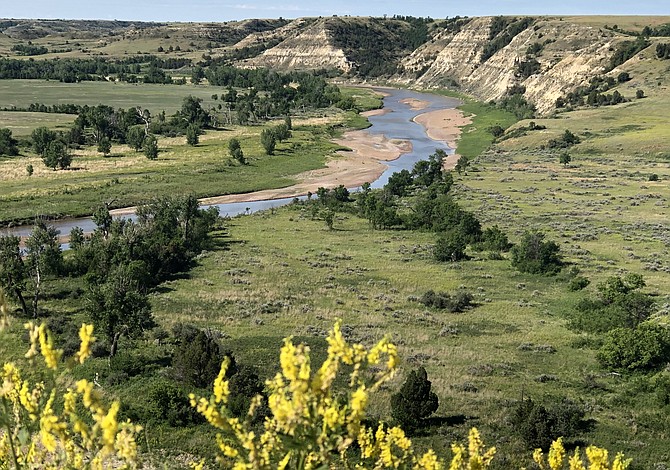 Erosion and weathering are responsible for the unique formations, from furrowed and grooved cliffs and twisted gullies to craggy pinnacles and dome-shaped hills marked with multi-colored striations.
The best way to discover the South Unit is on the 36-mile scenic loop. You'll enjoy sweeping Badlands views, and most likely, some stellar wildlife sightings.
Easy to moderate walks will take you to overlooks of the landscape and the Little Missouri River, along nature trails, through dry washes and by a wind-sculpted canyon. Make sure you also go to the Painted Canyon, one of the most notable and photographed places in the state. This vibrantly hued canyon looks amazing from the rim, but if you want an up close and personal experience with the rock layers, take the hike that dips down into it. Just remember that what goes down must go up!
The scenery shares center stage with the wildlife in the park. A wide diversity of animals make their home here, as an abundance of native grasses provides food for grazing creatures, large and small. This is the land of the bison, pronghorn, elk, mule deer, wild horse and prairie dog. And if you're a birder, you'll be in heaven, as there are more than 186 types of birds, residential and migratory.
Herds of bison can be seen munching on the tasty shoots, lazing in the sunshine and crossing the road, babes in tow. They are fascinating to watch and a fan favorite with visitors. Just remember to keep your distance, as a bison can weigh up to 2,000 pounds and has horns that aren't just used for getting grub.
Though they act like cattle, lumbering about the landscape, don't be fooled by this behavior. Bison can move fast when agitated – up to forty miles per hour. It doesn't take them long to cover a short distance.
These massive, woolly beasts could easily have become extinct if it were not for the foresight of a few individuals, including Theodore Roosevelt. Warnings and attempts to protect these creatures were made back in the late 1700s, but it wasn't until 1894 that federal legislation protecting the animals was enacted.
Pronghorns are also prolific in the park. These iconic symbols of the prairie are famous for being the continent's fastest land mammal and the second fastest in the world behind the cheetah. Fleet-footed and lithe, the pronghorn is capable of reaching speeds of up to sixty miles per hour. These creatures are also great distance runners that can travel for miles at half that speed.
I saw numerous pronghorns in the park gracefully flying along the grasslands. Others stood still as statues, acutely aware of every noise and movement around them.
Wild horses roam wild and free in Theodore Roosevelt National Park. These feral creatures typically move in small herds of five to fifteen animals. Each group has its social hierarchy, comprised of a dominant stallion, his mares and their offspring. For several years, the National Park Service attempted to remove all the horses from the park. But, a change in policy led to recognition of the horse as part of the cultural and historical landscape of this special place.