Crystal Ball
Sharing Stories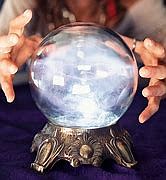 CRYSTAL BALL
I sometimes wish for a crystal ball,
So I wouldn't have to worry at all.
I'd know what my future held in store;
What waits beyond that golden door.
I could stop all the fretting about tomorrow;
And whether or not it held joy, or sorrow.
There'd be nothing new under the sun,
For I'd already know it before it was done.
I wouldn't need newspapers, books or TV.
I could save all that extra time for me!
Life would be great, without any cares;
No need for daydreams, hopes or prayers.
But; wait! those things give life its worth.
Else why am I sojourning here on Earth?
I really do need those stimulations;
The delicious spice of anticipations.
Maybe it's better for you and me,
If we don't know for certain what is to be.
For the rest of my days on this Old Sod,
I'll leave my future in the hands of God.
Dianne Enger Snell (81) who began writing at ten years old has lived in Hoodsport, Shelton, Quilcene, and Sequim as a Realtor—now residing in Auburn.
SHARING STORIES is a weekly column for and about the 50 plus crowd living in the Puget Sound region. Send your stories and photos to ariele@comcast.net. Tell local or personal stories; discuss concerns around aging and other issues; share solutions, good luck, and reasons to celebrate; poems are fine too. Pieces may be edited or excerpted. We reserve the right to select among pieces. Photos are always a plus and a one-sentence bio is requested (where you live, maybe age or career, retired status, etc.).
SHARING STORIES is featured on www.northwestprimetime.com, the website for Northwest Prime Time, a monthly publication for baby boomers, seniors, retirees, and those contemplating retirement. The newspaper can be found in the greater Seattle area and other Puget Sound locations. For more information, call 206-824-8600 or visit www.northwestprimetime.com. To find other SHARING STORIES articles on this website type "sharing stories" in the search function above.