Sunday Drives
Sharing Stories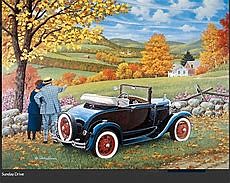 Sunday Drives
As a child, I often accompanied my parents on Sunday afternoon drives.
Following early dinners, we drove leisurely through city neighborhoods.
I listened to my parents point out houses and gardens
and talk about ideas for our house or a "someday" house.
What I saw was my future…
imagination placing me in one of these houses as my own one day.
To escape the empty house after my husband passed,
I collected the dog and took leisurely drives,
listening to Elvis sing slow gospel music,
surrendering to sorrow and grief.
Nearby communities appeared as they always had,
impervious to my profound loss.
What I saw was enduring continuity in my world's space,
offering a shoulder of reassurance and comfort.
Last summer, I took a Sunday evening drive along the backroads of Whidbey Island,
admiring the green fields around beautiful farmhouses
and decorations draped on beach community decks.
Welcoming the warm breeze coming in the window,
what I saw was sweet melancholy,
inherent in the waning summer evening,
triggering videos in my mind of sunny, satisfying childhood memories…
and a soft sadness mourning the inevitability of the passing season.
This week I took another afternoon drive,
so grateful for my car to help me escape
long, too quiet, quarantine days.
Familiar landscapes were altered
with near empty beaches and playgrounds.
And yet…. a second look showed the spaces,
peppered with people here and there,
eyes atop colorful face masks, going about their days.



What I saw was resilience and resolve
to keep living, moving and sharing.
And I knew…in the midst of overwhelming challenge,
we will prevail.
Gretchen Murphy is a Washington resident who grew up and raised her family in the Seattle area, teaching for many years at the University of Washington.

SHARING STORIES is a weekly column for and about the 50 plus crowd living in the Puget Sound region. Send your stories and photos to ariele@comcast.net. Tell local or personal stories; discuss concerns around aging and other issues; share solutions, good luck, and reasons to celebrate; poems are fine too. Pieces may be edited or excerpted. We reserve the right to select among pieces. Photos are always a plus and a one-sentence bio is requested (where you live, maybe age or career, retired status, etc.).
SHARING STORIES is featured on www.northwestprimetime.com, the website for Northwest Prime Time, a monthly publication for baby boomers, seniors, retirees, and those contemplating retirement. The newspaper can be found in the greater Seattle area and other Puget Sound locations. For more information, call 206-824-8600 or visit www.northwestprimetime.com. To find other SHARING STORIES articles on this website type "sharing stories" in the search function above.