Find serenity amid splendor at Bloedel Reserve
Travels with Deb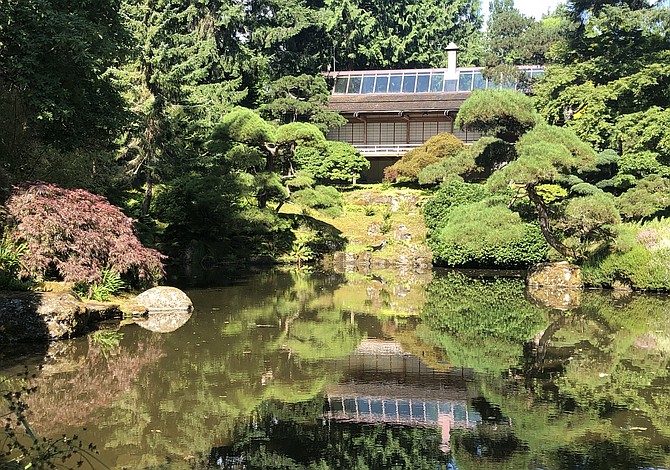 The Residence is a handsome, stately house, designed in the 18th-century French tradition. Previously, visitors could tour the first floor, but currently the building is closed, and all programs that are normally held on site have been cancelled. You can, however, stroll around to the back of the home, which overlooks the Bluff and a picturesque view of Puget Sound.
Another favorite spot is the Japanese Garden and Japanese Guest House. The garden is regarded as one of the best in the country and contains a collection of beautiful trees, including a striking laceleaf maple and a large Katsura that offers an array of colorful foliage throughout the year. And there's even a Wishing Bench, perfect for making a wish or enjoying this lovely scene.
The Guest House, which served as quarters for the Bloedel's guests, is a melding of Japanese and
Northwest Coast Native American Longhouse styles. Though the structure is not open to the public, you can get a closer look by walking along the porch. Make sure to check out the Sand and Stone Garden in front of the house. Originally a swimming pool, it was replaced with a sculpture after famous poet Theodore Roethke accidentally drowned there. In 1987, the sculpture was removed and the Sand and Stone Garden was installed.
This type of garden is one of the most recognizable aspects of Japanese culture. Its clean lines and bare, stripped down form help viewers clear their minds and encourage a meditative state.
If you're into moss, and even if you're not, you'll be in awe of the Reserve's Japanese-inspired Moss Garden. It's the largest public moss garden in the U.S. with forty plus species of mosses and lichens spread across two acres. You'll feel as if you've wandered into a primordial realm coated in velvet.
Also popular with visitors is the Reflection Pool. Situated next to the Moss Garden, it's tucked behind a wall of hedges, so that your first sight is one of breathtaking surprise. The 200-foot-long rectangular pool is surrounded by sheared yews and mown grass in manicured, formal fashion – quite a stark contrast to the natural forest beyond. This is a quiet spot, also ideal for contemplation.
If you go:
Bloedel is open year-round, Tuesday – Sunday, allowing visitors to explore the different landscapes as they change with the seasons. Timed-entry tickets, booked online in advance, are currently required, as are masks and social distancing.
Debbie Stone is an established travel writer and columnist, who crosses the globe in search of unique destinations and experiences to share with her readers and listeners. She's an avid explorer who welcomes new opportunities to increase awareness and enthusiasm for places, culture, food, history, nature, outdoor adventure, wellness and more. Her travels have taken her to nearly 100 countries spanning all seven continents, and her stories appear in numerous print and digital publications.