Little Lulu & Tubby
Sharing Stories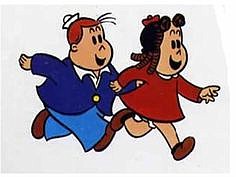 LITTLE LULU (AND TUBBY)
One Sunday, I picked up my parents' colorful comic page of the Los Angeles Times. One comic strip caught my eye. It was a little girl with dark curls, wearing a red dress with a white collar and a red beret jauntily placed on the back of her head. I eagerly looked forward to the next episode of "Little Lulu." What eight-year-old wouldn't!
Some days, Little Lulu was mischievous, which tickled me because I was shy. In the next episode, she was charming and helpful. As I grew fonder of Lulu, my parents took notice of this with amusement. I pictured her living down the street and wished I could visit with her.
Lulu had a friend, Tubby, who was dressed in blue shorts, sporting a black jacket with a small sailor's cap set precariously on his head. Sometimes they were mean to each other and had many arguments, but always managed to make up. Their many adventures intrigued me and made me want to jump into the pages and join them.
Christmas morning, I awoke early. My mother was preparing coffee. She rushed to the living room after hearing a cry of joy. I had discovered the Lulu and Tubby dolls perched on the back of the couch. Holding them tightly, I skipped through the house. I can vividly recall the scene.
Julia LeMay is a retired executive assistant, native Californian now living in Washington where she loves to write poetry and stories for children.
SHARING STORIES is a weekly column for and about the 50 plus crowd living in the Puget Sound region. Send your stories and photos to ariele@comcast.net. Tell local or personal stories; discuss concerns around aging and other issues; share solutions, good luck, and reasons to celebrate; poems are fine too. Pieces may be edited or excerpted. We reserve the right to select among pieces. Photos are always a plus and a one-sentence bio is requested (where you live, maybe age or career, retired status, etc.).
SHARING STORIES is featured on www.northwestprimetime.com, the website for Northwest Prime Time, a monthly publication for baby boomers, seniors, retirees, and those contemplating retirement. The newspaper can be found in the greater Seattle area and other Puget Sound locations. For more information, call 206-824-8600 or visit www.northwestprimetime.com. To find other SHARING STORIES articles on this website type "sharing stories" in the search function above.