A different kind of flower—cauliflower!
Liven up your veggies with different color cauliflowers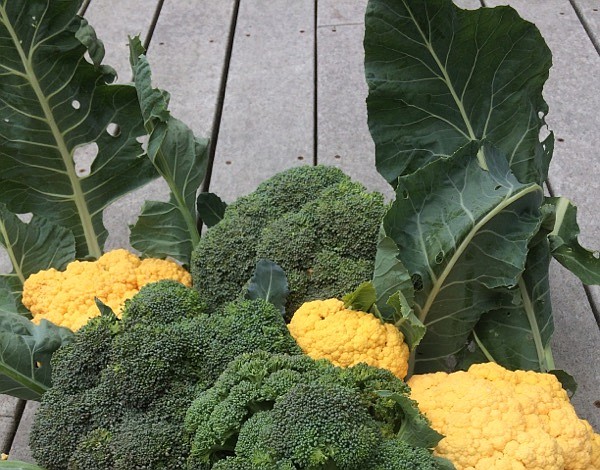 I often bring flowers to work to share with my patients and co-workers, but when they're in season, I like to bring a different kind of flower—cauliflower! Prettier than any rose, and you can eat this flower.
When you think of cauliflower you may think of the usual creamy white vegetable, but I've also grown a beautiful orange "cheddar" variety and a vivid dark purple variety as well. I think serving your grandchildren raw "Husky flowers" of purple and gold might be one way to get them to eat their veggies.
Not surprising, the brightly colored cauliflowers have more nutrients than the white: more vitamin A in the orange and more antioxidants in the purple. There is a chartreuse green variety too. All cauliflowers benefit from a cooking technique that gets rid of bitter sulfuric acid compounds in the plant. Oven roasting or stir frying are great ways to tame cauliflower's bitter side.
Oven-blasted cauliflower
Use whatever combination of spices you like for the seasoning. Just be sure they are salt-free to go easy on your heart and kidneys. My family loves the salt-free Cajun seasoning recipe below, or try a good salt-free Indian curry powder.
Preheat oven to 450 degrees. Cut up a head of cauliflower into 1-inch florets, toss in a bowl with seasoning and about 2 tablespoons of olive oil. Pour onto a flat baking sheet. Bake in oven 8-10 minutes. Stir, cook another 8-10 minutes. Test with fork to see when done. They should be lightly caramelized. When done, remove from oven, sprinkle with 2 tablespoons freshly grated parmesan cheese. Serve immediately. Serves 4.
Nutrition information (per serving, without seasonings):
Calories: 41, Carbohydrates: 8 grams, Protein: 4 grams, Sodium: 30 milligrams
Salt-free Cajun seasoning
1 teaspoon each:
oregano
thyme
cayenne pepper
black pepper
garlic powder
onion powder
Combine all ingredients together. Store in a spice jar for up to 6 months. Makes 6 teaspoons.
Nutritional information:
Calories: 5, Carbohydrates: 1 gram, Protein: 0 grams, Sodium: 0 milligrams
Pickled cauliflower
I have too much cauliflower growing this year to eat all at once so I pickled several heads to use later. The florets will look beautiful served on a winter salad. Or, serve this salt-free pickled cauliflower as an appetizer with other low-salt pickled veggies, low-salt crackers, hummus, and sliced tomatoes and cucumbers.
Vinegar will leech all the color out of purple cauliflower, so stick with pickling the white and orange varieties!
2 teaspoons coriander seeds
2 teaspoons mustard seed
2 teaspoons cumin seeds
4 cups vinegar
½ teaspoon red pepper flakes
8 cloves garlic, peeled
1/2 cup sliced fresh ginger
1 onion, sliced
1 cup sugar
3 cups water
One head cauliflower, cut into florets (about 6-8 cups)
1 red bell pepper, diced
Put seeds in large pan, toast about 2 minutes. Add vinegar and other seasonings, plus 3 cups water. Bring to boil.
For (quick) refrigerator pickles: Pack the veggies into a large glass bowl. Pour the hot vinegar mixture over veggies. Cool and refrigerate. Use within 2 weeks.
For canned pickles that will last a year: Pack veggies in pint jars that have been sterilized with hot water. Pour vinegar mixture over cauliflower, leaving a half-inch of headspace. Tighten sterilized lids with screw bands. Process in a hot water bath for 10 minutes. Refrigerate after opening. Serves about 12-14.
Nutritional information (per serving):
Calories: 87, Carbohydrates: 18 grams, Protein: 1 gram, Sodium: 11 milligrams
[Katy G. Wilkens is a registered dietitian and department head at Northwest Kidney Centers. The National Kidney Foundation Council on Renal Nutrition has honored her with its highest awards: the Susan Knapp Excellence in Education Award and the Joel D. Kopple Award for significant contributions in renal nutrition. See more recipes at www.nwkidney.org.]