Journey through the depths of Mordor
Travels with Deb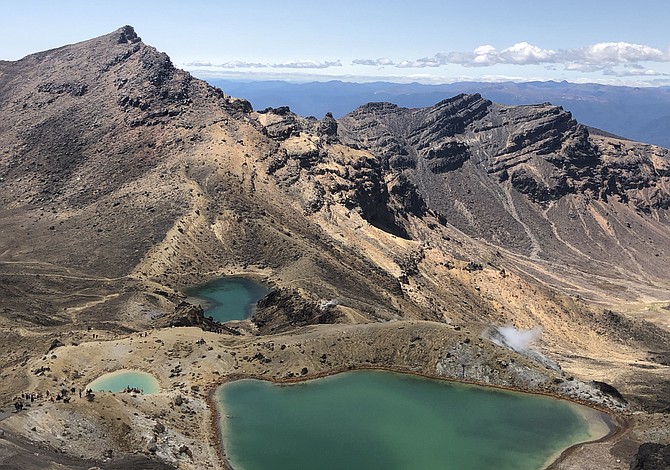 The most recent activity on Mt. Tongariro was in 2012, but the eruption only lasted a few minutes, and occurred partly from existing vents at one of the craters.
I opted to do the Crossing with Adrift Tongariro because I wanted the accompaniment of a guide in order to get the most out of the experience. With a guide, I'd be able to learn more about the geology and lore of the landscape. My husband was all for being part of a group, as he knows I don't complain if there are other people hiking with me!
Adrift Tongariro is a highly reputable outdoor adventure company that specializes in guided outdoor adventures through the Whanganui and Tongariro National Parks. Guides are very experienced, having led a combined total of over 10,000 hikes, and they possess an extensive knowledge of the region. They are passionate about their surroundings and enjoy sharing it with others.
The trail, or as the Kiwis say, "tramping track," starts in scenery akin to a Scottish moorland and finishes through woodland. Most of the time, however, you are trekking through raw volcanic terrain that is either sharp-edged new volcanic rock or loose and shifting scree. Active fumaroles abound, emitting steam and Sulphur dioxide gas into the air, which is distinguished by a pervasive rotten egg odor. The lakes and pools you see are colored by the volcanic minerals dissolved in them. In some places, there are large springs bubbling with near-boiling water.
As I look around, I feel as if I've been beamed up to another planet. Red and black volcanic rocks, barren lava flows, steam vents and craters full of emerald green water combine to create an otherworldly atmosphere. This thermal wonderland is a study in contrasts and its eerie beauty leaves an indelible impression on me.
I clearly understand why director Peter Jackson chose to shoot a number of scenes for "The Lord of the Rings" movies here. This is the heart of "Mordor" and forbidding "Mount Doom" (Mt. Ngauruhoe) is omnipresent.
The trail is linear, beginning on the west side of Mt. Tongariro and finishing on its north flank. It's deceptive at first, as you're strolling through a valley, adorned by heather and manuka, with some mountain vistas in the distance. I'm feeling confident, but I know this is the easy part.
Then things start to get a bit tough with the notorious Devil's Staircase. It's akin to being on a never-ending stair climber and I confess that the idea of turning back crossed my mind several times. But, I'm not a quitter, and once I reached the top of the staircase, I realized that my effort had a big payoff. The views of Tongariro were epic.
From the saddle, the trail crosses the vast South Crater and then you're in for another difficult uphill stretch to the highest point of the hike - the Red Crater. This is one of several active craters on top of Mt. Tongariro. Formed some 3,000 years ago, it shows evidence of spectacular lava flows. The dramatic, vivid red hues and size of this ginormous depression will leave you breathless, if the climb hasn't already!