Another example of Love
Sharing Stories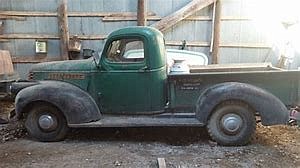 Another example of Love
The winter of 1946-1947, when I was three going on four, my family lived in a crude cabin in the Methow Valley. When the ground was heavily covered with snow, Dad couldn't get the truck up the unplowed road to the cabin and had to leave it at the house of our nearest neighbor, about 1 ½ miles down the hill. All groceries and other items came home in an old canvas pack board carried on Dad's back.
One day, he left for town around mid-morning, walking the distance to the Hall ranch below and drove to town.
I was pretty unconcerned during the day, but as it began to wane, I started to worry about Daddy. I stood at the window straining my eyes for a glimpse of him coming up the road and repeatedly asked Mom when Daddy was coming home. Each time, she answered with something to distract me.
After it was full dark, I started to believe I could see a figure in the road in a miner's helmet with a carbide light on the front, moving steadily toward the house.
Sure enough, Dad stepped up onto the porch, stomped the snow from his boots, and walked through the door, followed by a blast of frigid air.
I ran to him, and he leaned down, hugged me, and called me "Sweet Pea." Once again, my world was complete.
Fae Jacobs, a retired nurse, who was born and grew up in Washington and lived here off and on my whole life. Truck was a dark green 1942 Chevy pickup.
SHARING STORIES is a weekly column for and about the 50 plus crowd living in the Puget Sound region. Send your stories and photos to ariele@comcast.net. Tell local or personal stories; discuss concerns around aging and other issues; share solutions, good luck, and reasons to celebrate; poems are fine too. Pieces may be edited or excerpted. We reserve the right to select among pieces. Photos are always a plus and a one-sentence bio is requested (where you live, maybe age or career, retired status, etc.).
SHARING STORIES is featured on www.northwestprimetime.com, the website for Northwest Prime Time, a monthly publication for baby boomers, seniors, retirees, and those contemplating retirement. The newspaper can be found in the greater Seattle area and other Puget Sound locations. For more information, call 206-824-8600 or visit www.northwestprimetime.com. To find other SHARING STORIES articles on this website type "sharing stories" in the search function above.