Sweet times with Sweet Peas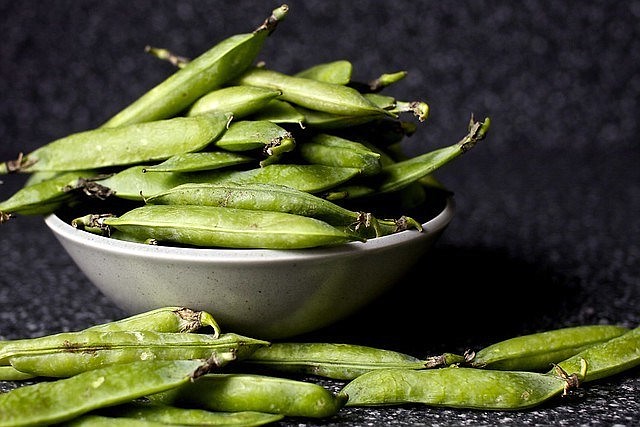 I love how my garden changes every year. Last year I had the best spinach ever, but not a red tomato in sight. This year it's all about the peas. They are amazing! The vines are loaded with pods and beautiful paper-white flowers, with new ones appearing daily.
There is nothing as sweet as peas right off the vine. (Well, maybe a fresh tomato). Garden-fresh peas often don't even make it in the kitchen door – they are gobbled up on the spot by my family and garden visitors. Not only are peas delicious, they are a good source of vitamins A, K and C, as well as folate. Plus, they are a great protein source. The pods are high in fiber, which helps protect your kidneys and heart.
If you don't have a garden, try a farmers' market or an Asian produce market for wonderful, crunchy, green, first-of-summer peas. There are three kinds, all worth a taste:
-- English peas, sometimes called green peas. They are typically shelled, and the time it takes to do that is well worth their sweet flavor. For the sweetest flavor, eat them as soon as you shell them.
-- Asian snow peas, or snap peas, commonly used in Asian cooking, have a pod that can be eaten.
-- Sugar snap peas, a hybrid of green and snow peas, developed to combine an edible-pod with full-sized peas. The fibers in the pods all go in one direction, making them easy to chew.
Savor peas now, in full season, because by mid-summer they will be gone! Try them in these tasty recipes.

Fresh Peas with Goat Cheese
Fresh-cut chives, with blossoms if available
8 ounces goat cheese
½ cup low-fat sour cream
2 tablespoons lemon juice and lemon zest
1-2 cups of fresh pea pods (English or snap)
Bunch of fresh radishes
Finely chop the chives and mix into the goat cheese and sour cream, then add lemon juice and zest. Serve as a dip alongside washed pea pods and radishes with their greens left on.
Serves 6-8 as an appetizer.
Nutritional information:
Calories: 137, Carbohydrates: 7 g, Protein: 8 g, Fat: 8 g, Sodium: 102 mg
Pasta and Peas
1 ½ cups fresh peas, in pods
2 cups uncooked tri-color rotini pasta
1 red bell pepper, diced
2 stalks celery, diced
¼ cup fresh tarragon, chopped
¼ cup fresh parsley, chopped
1 tablespoon olive oil
Boil large pot of water. Drop in peas and cook about two minutes until they turn bright green. Remove peas and plunge them into ice water (reserving the hot water). Cook pasta in remaining water according to package instructions. While pasta is cooking, cut up vegetables and herbs and sauté in oil. Toss peas, pasta, and vegetables and serve with crusty bread.
Tips: for a Thai flavor, substitute coconut milk and add lemon grass and chili flakes.
Serves 4.
Nutritional information:
Calories: 300, Carbohydrates: 53 g, Protein: 11 g, Fat: 5 g, Sodium: 35 mg
[Katy G. Wilkens is a registered dietitian and department head at Northwest Kidney Centers. The National Kidney Foundation Council on Renal Nutrition has honored her with its highest awards: the Susan Knapp Excellence in Education Award and the Joel D. Kopple Award for significant contributions in renal nutrition. See more recipes at www.nwkidney.org.]