Caryl and Ralph Turner: Founders of Precious Life Animal Sanctuary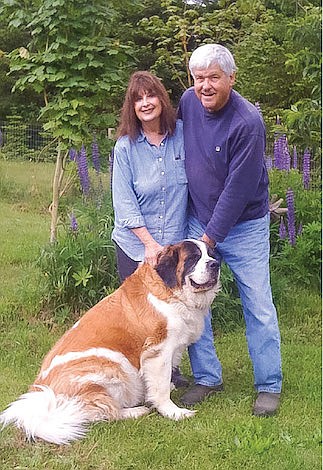 On the outskirts of Sequim, next to the Olympic National Forest and near Olympic National Park, lies a hidden valley surrounded by forest, wildlife and views of the Straits of Juan de Fuca. This special place is the Precious Life Animal Sanctuary.
The sanctuary was founded in September of 1999 by Ralph and Caryl Turner, who had been actively involved in animal protection issues their entire adult lives.
The rescue activities of the couple started with Great Pyrenees dogs. It then extended to feral cats and farm animals.
Ralph and Caryl retired from their careers—he was the security director for Safeway stores, for 45 years she worked with engineers—but wanted to do something meaningful with their lives.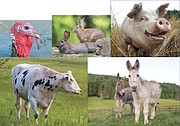 "We did okay in our lives," says Caryl. They were happy with their pleasant life in Edmonds. "But we wanted to be remembered for a purpose. Animals turned out to be our purpose." They realized that establishing an animal sanctuary was to become their greatest life's work.
After their experience rescuing three Great Pyrenees from a miserable puppy mill situation and then two impactful experiences with farm animals in need, the Turners felt it was imperative to give back to all the animals who had touched their lives and provided so much happiness and inspiration throughout the years.
Ralph reflects on the lack of support for farm animals. "A lot of the time, farm animals aren't even thought of as individual lives, but a commodity." Ralph was determined to educate himself on the world of commercial farming and found "unbelievable confinement and suffering" of the horses, cows and pigs bound for slaughter. During this time, Ralph and Caryl rescued their first Holstein calf, Buddy. Buddy was so charismatic, with a unique and friendly personality, that he proved to be the inspiration they needed for the sanctuary.
"To fulfill our commitment to the animals, we purchased the sanctuary property, 85 acres outside of Sequim. It was in severe disrepair," reports Caryl. "We spent an incredible amount of time, effort and money to fence and convert the property into a quality facility."
The Turners looked far and wide for property that would work. "We looked everywhere, including Idaho," remembers Caryl. They almost bought acreage in the Bellingham area, but then found the property in Sequim. There was a barn on the property, which was helpful. "There was an old cabin on its side that we righted. We fenced the entire property, including five acres for the dogs, and the rest for the pigs and sheep and cows, turkeys and wild burros rescued from the BLM roundups."
The day they signed the papers for the acreage, Caryl was diagnosed with breast cancer. "Still, the only days I missed working were the chemo days," she recalls. "That was 20 years ago. Knock on wood, my health is good. We are both still very active and healthy.
"We have an old mule from the national park," says Caryl. "They work them for 30 years because they don't allow mechanized equipment in the backcountry of the park. They then put them out to pasture." Unfortunately for the animal, out to pasture usually means it ends up as food for something else.
The mule and all the other animals at Precious Life Animal Sanctuary have found a safe and happy home, protected for the rest of their lives. Who knows, they may even enjoy the stunning views from their verdant valley home.
Precious Life Animal Sanctuary is a non-profit organization dedicated to rescuing and providing a safe home for abused, neglected and abandoned farm and companion animals, teaching humane education and advocating against the practices that perpetuate animal suffering. The Turners take no salary for their never-ending work at the Sanctuary. COVID-19 has been financially devastating for the sanctuary and other non-profits. Donations are always much appreciated. For information, visit preciouslifeanimalsanctuary.org or call 360-582-1437.