Fill half your plate with veggies
The healthier way to eat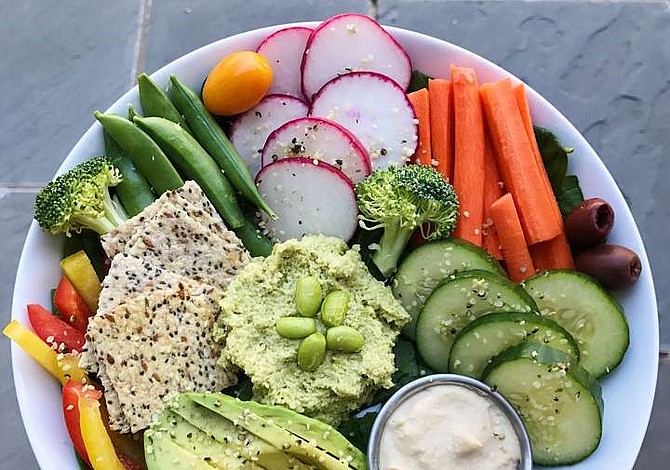 The food pyramid has been replaced by a new symbol for healthy eating — the plate! I love the image because everyone can visualize what a plate looks like.
Now, imagine half that plate full of vegetables. Harder?
That's because average Americans eat less than half of the fruits and veggies they should. This is especially true for seniors, whose fruit and vegetable consumption has decreased in the last 10 years.
To top it off, what Americans count as a fruit or vegetable may not be the best or healthiest choice. The top five "vegetables and fruits" eaten by Americans include iceberg lettuce, French fries, potatoes, potato chips and canned tomato products. And 40 percent of all the fruit Americans consume is in the form of juice. That's basically like drinking soda because juices are high in fructose, a form of sugar.
We should eat four to five cups of fruit and vegetables a day. But most seniors eat less than one cup a day. To increase your intake and improve your health, try these ideas.
• Go to your local farmers market, a fun way to combine an outing with good deals and fresh produce.
• Grow a few of your own vegetables, tucked into a flowerbed or in a pot on your deck.
• Serve two or three vegetables at a meal, rather than just one. When you get variety, you often make better choices.
These quick and tasty low-salt recipes will help you fill your plate with garden fresh goodness.
Roasted Green Beans and Sweet Onion
1 pound sweet onions, cut into ½" pieces
2 tablespoons olive oil
2/3 pound green beans
2 tablespoons balsamic vinegar
Preheat oven to 375 degrees. Place onions in a large roasting pan. Drizzle onions with olive oil and toss to coat evenly. Place in the oven and roast for 30 minutes, turning every 10 minutes. Add green beans to the onions and roast for another 10 minutes. Add balsamic vinegar and cook in oven for another 2-5 minutes before serving.
Nutrition information per ½-cup serving:
Calories: 63, Carbohydrates: 7 g, Protein: 1 g, Sodium: 6 mg






Cook green beans for a longer or shorter time, depending on how tender you want them. Instead of balsamic vinegar, sprinkle the roasted vegetables with garlic powder or just leave them plain.
Roasted Asparagus with Lemon
1 pound asparagus spears, trimmed (about 18 stems)
3 tablespoons fresh lemon juice
1 tablespoon extra-virgin olive oil


1 teaspoon finely grated lemon peel
Preheat oven to 450 degrees. Arrange asparagus in a single layer on a baking sheet. Shake lemon juice, oil and lemon peel in a jar. Pour over asparagus, turning to coat. Roast asparagus until crisp-tender, turning occasionally, for about 15 minutes. Serve warm or at room temperature.

Serves 4. Nutrition information:
Calories: 55, Carbohydrates: 5 g, Protein: 3 g, Fat: 4 g, Sodium: 2 mg
Fiona's Sautéed Fresh Greens
¾ pound (4 cups firmly packed) greens: beet, turnip, mustard, collard, kale, or mixed
1 tablespoon olive oil