Wicked Seattle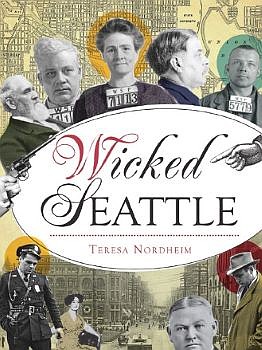 Puyallup resident Teresa Nordheim is an award-winning author with more than 50 published articles and three books to her credit. She works full time as a civilian nurse for the U.S. Army and thrives on researching a good mystery to uncover a hidden gem.
Her most recent book, Wicked Seattle, looks at the rapidly expanding early city of Seattle— full of gainful employment for fisherman, loggers and miners, but lacking one precious resource: women. Bored men yearned for companionship and entertainment. Wicked Seattle introduces the longstanding criminal side of Emerald City's history, including the rise of prostitution, gambling and illegal alcohol, plus how graft, politicians, police officers and crime bosses all encouraged the vice and kept the city growing.
Research for her first book, Tacoma's Haunted History, appealed to Teresa because it mixed history, architecture and ghost stories. In her research, she found that the city's paranormal history is riddled with Native American culture, spiritualists, mysterious deaths, tragedy and curses. "While tragic events don't always create hauntings, they often lay the storyline. These unfortunate circumstances bring forth tales of the strange and unexplainable."
Her second book, Murder & Mayhem in Seattle, explores Seattle's dark and violent history, including a bloody battle between natives and settlers, the story of Dr. Linda Hazzard who stole money from patients after starving them in her infamous sanitorium, a look at the Wahmee gambling club—which saw the state's deadliest homicide in 1983, and how some of America's most notorious serial killers wrought terror in Seattle.
Asked about her penchant for writing on such unusual topics, Teresa responds: "Why do I enjoy writing nonfiction historical books? After all, they will never turn into the next bestseller. It's because I enjoy the treasure hunt of an excellent day of research and the challenge of making nonfiction read like fiction." She gets her inspiration from such authors as Ann Rule, Gregg Olsen and Stephen King.
Teresa began writing as soon as she was able to pick up a pen and put it to paper. She recalls sitting on the front porch of her grandparents' house drawing pictures and creating story books about her own life's adventures. Her grandfather encouraged her, "Don't give up. You're good at this." She entered her first writing contest in third grade and, although she wouldn't win, she learned a valuable lesson. Rejections are badges of courage, advises Teresa. It means you were brave enough to pour your heart and soul into paper and share it with the world. If you don't try, you can't succeed, she adds. Many years later, she had enough rejection letters to wallpaper a room, but she didn't give up.
While writing would have been Teresa's first dream job, when she found herself parenting a 2-year-old alone, she realized she needed to pay the bills. "Nursing was an obvious choice as it combines the research skills I thrive in, science and caring about the well being of those around us." She has been a nurse since 1998 and has worked in nursing homes, hospitals, home care, hospice, medical records and clinics.
"One of my first jobs was at the VA Medical Center in Portland and the patients always had a good war story to share...I yearned to be around men and women who serve our country. I've been with Madigan Army Medical Center for just over three years and it is by far one of the most rewarding experiences of my life." Perhaps her next book will bring to life stories of haunted hospitals.
"As long as I'm able to spend more time researching and writing, encouraging reluctant readers and adding flare to historical exploration, I'll be happy."
Teresa Nordheim will discuss her book, Wicked Seattle, on April 3 at 6 p.m. at the University Bookstore (4326 University Way NE, Seattle).