AARP's "Movies for Grownups" awards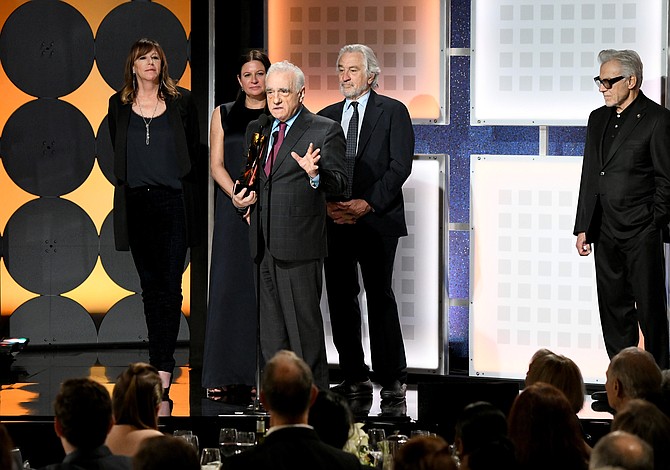 Baumbach's take on divorce evolved from his previous satire films. "Marriage Story" details the divorce of a stage director husband and an actor wife and the legal battle spanning the U.S. which follows suit. At age 50, Baumbach delivers a moving and relatable film loosely based on his own divorce.
Best Intergenerational Film: The Farewell
"The Farewell" is based on the experiences of director Lulu Wang. The protagonist visits her aging grandmother in China after she is suspected to have a terminal illness. Cultures collide between the American relative and Chinese family and the relationships that follow charm viewers in this family-oriented comedy.
Best Ensemble: Knives Out
"Knives Out" is another family-oriented movie, but with gothic undertones. After the patriarch of a family dies, the rest of the family tries to reveal who the killer is with an air of suspense. With a very valuable will on the line, family dynamics flare in this thrilling yet witty film.

Best Time Capsule: Harriet
Written and directed by Kasi Lemmons, "Harriet" artfully portrays heroine Harriet Tubman and her 14 trips through the underground railroad. Cynthia Erivo delivers an impactful performance as Tubman, from pioneer of the underground railroad to a leader for Union soldiers during the Civil War.

Best Foreign Language Film: Pain and Glory
Popular Spanish director Pedro Almodovar woos his audience again with his newest film "Pain and Glory." Almodovar shares a personal reflection on his life through lead actor Antonio Banderas. At age 70, Almodovar takes viewers through ailments related to aging, and down memory lane of the protagonist's childhood.
Best Documentary: Linda Ronstadt: The Sound of My Voice
Linda Ronstadt's radiant personality and soulful voice is remarked and reflected in her documentary created by filmmakers Rob Epstein and Jeffrey Friedman. Ronstadt's assorted repertoire highlights her artistic versatility and her personal relationships show her diverse dating history. A trailblazer for women in the music industry, Ronstadt dabbled in rock, pop, country, folk, opera and mariachi. Her album "Canciones de Mi Padre" remains the No. 1 best selling non-English album in U.S. history.
Readers' Choice: A Beautiful Day in the Neighborhood
AARP readers choose the beloved "A Beautiful Day in the Neighborhood," a tribute to Mister Rogers. The film touches on the dark aspects of human nature, as well as some of the wonderful aspects. Tying it all together with love, this feel-good film delivers nostalgic reassurance.

To see what AARP has to say about the winners and to view photos and commentary about the "Movies for Grownups" awards show, visit aarp.org.