AARP's "Movies for Grownups" awards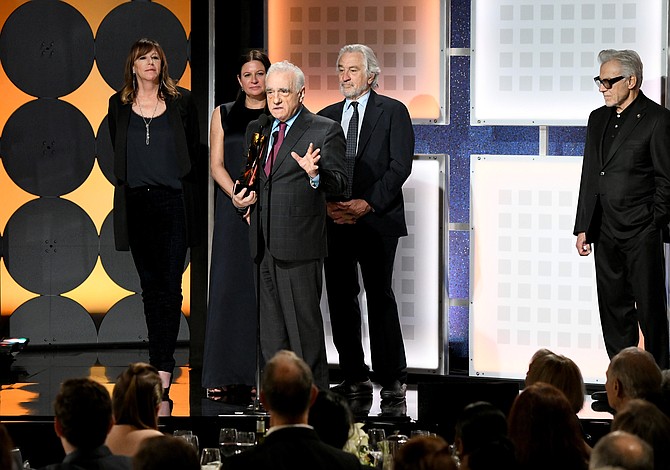 By Maddie Smith
It's that time of year again. Cash in on your senior discount and make a beeline for the theatre because AARP revealed the winners of their annual 'Movies for Grownups' awards. Alternatively, streaming services like Netflix allow you to stream or download many of these movies and enjoy them from the comfort of your own couch. The awards included a broad range of categories to capture the attention of movie lovers far and wide. Here is a list of the winners:
Best Movie for Grownups: The Irishman
"The Irishman'' is a reflective film about aging members of the mafia. Acting with a little more grace than previously in his mafia career, protagonist Frank Sheeran, played by Robert De Niro, shares life lessons and relationships with mentors. De Niro costars with well-known mafia actors Al Pacino, as Jimmy Hoffa, and Joe Pesci, as Russell Bufalino.

Career Achievement: Annette Bening
From her role in Academy Award winning "American Beauty" in 1999 to her 2019 role in "Captain Marvel," Bening has not stopped acting. She has 35 feature films and several roles in television series under her belt. At the age of 61, Bening receives grownup awards for her impact on the film industry.
Best Actress: Renée Zellweger
Nominated for her lead role in "Judy" in 2019, 50-year-old Zellweger amazes viewers as Judy Garland. Past lead roles for Zellweger include Bridget Jones in "Bridget Jones's Diary" and Jane in "My Own Love Song."
Best Actor: Adam Sandler
Sandler stars in "Uncut Gems," performing a more serious than the familiar "Saturday Night Live" Sandler we all know and love. This sudden change in tone didn't stop the 53-year-old actor from knocking the role out of the park. Howard, Sandler's character, will have you sitting at the edge of your seat with his erratic actions and endless debt.
Best Supporting Actress: Laura Dern
Dern's role as divorce attorney Nora Fanshaw in "Marriage Story" earned her title of best supporting actress. Dern delivers a personable, witty and brutally honest performance. At 52, she lights up the big screen after her previous mesmerising role as Renata Klein in hit television show "Big Little Lies."
Best Supporting Actor: Tom Hanks
Hanks delivers a feel-good performance as Fred Rogers in "A Beautiful Day in the Neighborhood," doing the part justice. Hanks is a veteran in the film industry at age 63. He is well known for films like "Forrest Gump" and "Sleepless in Seattle" and will be starring as Ove in "A Man Called Ove," which was recently announced.
Best Director: Martin Scorsese
At age 77, Scorsese has a long history with directing mob movies with films such as "Mean Streets," "Casino" and "Goodfellas" under his belt. To deliver a new experience to his audience, Scorsese slows down the mobster action in "The Irishman" for the aging characters. The film clocks in at three and a half hours, and was nominated for 10 Academy Awards.
Best Screenwriter: Noah Baumbach