Persimmons: winter lanterns lighting up dark days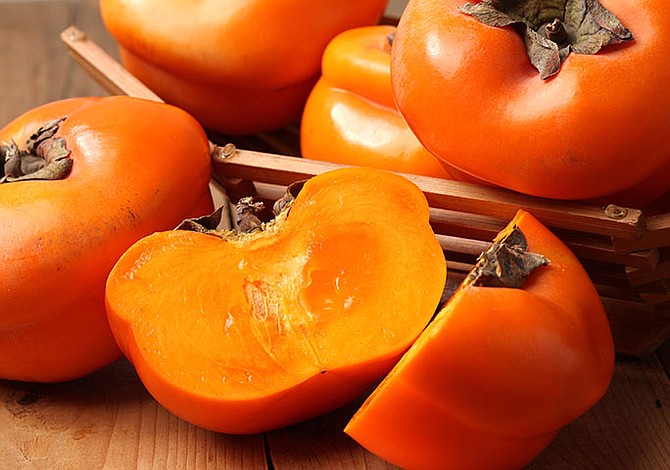 Persimmons are fruits that ripen late in the fall, hanging like bright orange lanterns on small trees among the autumn leaves. There are three basic kinds of Asian persimmons: the Fuyu, which looks like a pumpkin with a flattened top and bottom; the chocolate persimmon, brown on the inside and slightly spicy, sweet and creamy; and the Hachiya, which is more bulbous and heart-shaped. In my garden I have an Asian and American hybrid called Nikita's Gift. It's the most likely persimmon to produce fruit west of the Cascades, but I am still patiently waiting. The smaller American persimmons are supposed to do better in our colder, wet climate, but most will need a pollinator.
Unripe persimmons are described as astringent and are unpleasant to eat. Once they ripen, they transform into a cinnamon-flavored treat, like a syrupy tomato, or a cinnamon mango, with pumpkin overtones. The taste is hard to describe. You really need to try these beauties to understand their uniqueness! One persimmon contains half your daily vitamin A and a fourth of your daily vitamin C needs. Persimmons are a great source of fiber and are high in all kinds of trace minerals, antioxidants and phytonutrients.
Fuyu persimmons are best when they are slightly soft, like a ripe pear. They slice into sections beautifully, and are a great winter substitute for bland out-of-season tomatoes. Fuyus make a wonderful addition to a spinach salad, or use them instead of tomatoes in a zippy salsa.
Hachiya persimmons must be fully ripe, which means mushy and gelatinous, before they are ready for eating. Simply slice the top off, eat it out of the skin with a spoon like pudding, or stir into a bowl of yogurt. Hachiyas are great in jams, chutneys and sorbets, or baked into a sweet bread, much like pumpkin bread. Hachiya persimmons lose their astringent quality when dried, so if you have a dehydrator, you can keep dried persimmons on hand to add color and flavor to your meals all winter long.
Persimmon salad
1-2 Fuyu persimmons, sliced
½ cup chopped or torn dried persimmons (or use dried apricots or mango)
½ cup fresh pomegranate seeds
½ cup unsalted cashews or hazelnuts
1 bunch fresh spinach
½ cucumber, sliced
½ diced red pepper
Toss all ingredients together in a bowl. Drizzle with persimmon dressing, below. Serves four.
Nutritional information (per serving):
Calories: 267, Carbohydrates: 49 grams, Protein: 5 grams, Sodium: 28 milligrams
Persimmon salad dressing
1 clove minced garlic
1 teaspoon maple syrup
4 tablespoons Hachiya persimmon pulp
2 tablespoons cider or rice vinegar
4 tablespoons olive oil
Combine all in a small bowl, whisk. Serve immediately over persimmon salad.
Nutritional information (per two tablespoons):
Calories: 149, Carbohydrates: 2 grams, Protein: 0 grams, Sodium: 1 milligram
Oven-baked persimmons
4-6 Fuyu persimmons
¼ cup maple syrup
½ teaspoon cinnamon
¼ teaspoon allspice
1/8 teaspoon ginger
1 cup sweet white wine
½ cup hot water
½ cup hazelnuts or pecans, chopped
Heat oven to 350 degrees. Peel persimmons, remove the tops and cut in half. Put cut side up in baking dish. Mix syrup, spices and wine, then add hot water and stir until dissolved. Pour over fruit. Cover with foil and bake until soft, about 40 minutes. Remove foil and spoon syrup over fruit. Broil until persimmons are browned, about 8-10 minutes, watching carefully. Serve sprinkled with nuts and with vanilla ice cream. Serves 4-6.
Nutritional information:
Calories: 251, Carbohydrates: 39 grams, Protein: 3 grams, Sodium: 5 milligrams
[Katy G. Wilkens is a registered dietitian and department head at Northwest Kidney Centers. The National Kidney Foundation Council on Renal Nutrition has honored her with its highest awards for excellence in education and for significant contributions in renal nutrition.]