Explore canyons, dunes and ruins in Southwest Colorado
Travels with Deb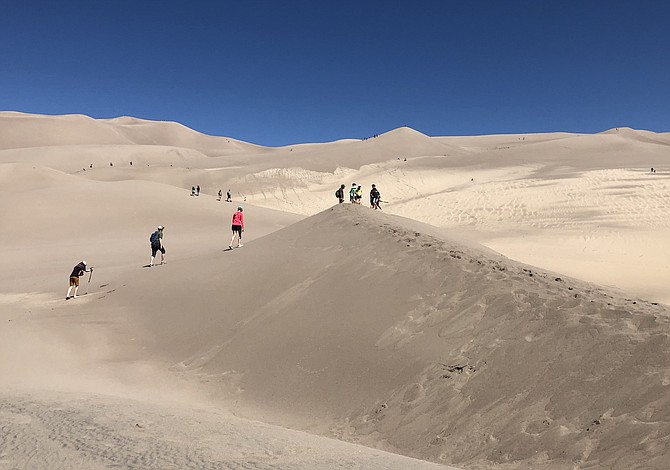 Hiking trails are typically an inherent part of most National Parks in our country. They offer opportunities for visitors to discover the highlights, as well as the lesser known features of each particular destination. It's rare when a park doesn't offer some type of trail system, but such anomalies do exist.
Take Great Sand Dunes National Park, for example. This must-see wonder is one of Colorado's most unique parks. Located in the San Luis Valley, the dunes were created hundreds of thousands of years ago after a large inland lake, which covered the valley, dried up. Over the years, a series of smaller bodies of water appeared and disappeared, leaving behind wetlands and an expanse of loose sand. Southwesterly winds picked up the sand and blew it toward a depressed bend in the Sangre de Cristo Mountains, forming massive sand dunes.
Great Sand Dunes was first proclaimed a National Monument by President Hoover in 1932 and then between 2000 and 2004, it received National Park and Preserve status. Today, it continues to remain one of the Centennial State's most beloved natural playgrounds.
The park protects the tallest dunes on the continent; the tallest of which is 755 feet above the valley floor at an elevation of 7,600 feet above sea level. Upon seeing these mountains of sand for the first time, visitors almost always comment on the bizarre quality of the scene. The 30-square-mile dune field appears as a Saharan-like landscape, an otherworldly spectacle.
This geological oddity, however, is not the only unusual aspect in the San Luis Valley. The valley itself is regarded as a paranormal hot spot. Believers around the world amass at privately owned watchtowers in hopes of spotting UFOs and extraterrestrial life. Also, the area is regarded as a mecca of spirituality that attracts numerous religious organizations. And then there are solar energy companies who use the valley to harness alpine-desert rays.
As for trails, you won't find any at the park. There's minimal signage and once you're amid the dunes, footprints disappear quickly. You'll blaze your own path and create your own adventure, whether you want to ascend High Dune, a 699-foot-tall behemoth, or up the ante and aim for famed Star Dune. The latter is the tallest dune, and only visible once you get to the top of High Dune. There's a wonderful feeling of liberation as you forge your own way, free to go wherever you wish. And there's plenty of room for social distancing at this park.
Make sure to wear sunscreen, bring plenty of water and have appropriate footwear. The latter is especially important as the temperature can reach a toasty 150 degrees on a sunny day and your bare tootsies will burn, baby burn! Take the opportunity either before or after your hike, or both, to cool off in Medano Creek, just past the visitor center and at the entrance to the dune field. Splash, wade or walk upstream/downstream as far as you like along this natural beach.