Eat the fruit, not the juice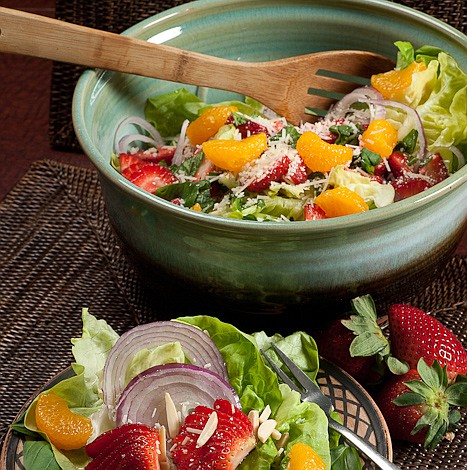 When I tell people to avoid high-calorie beverages, they think I mean sweetened sodas. I do. But I actually mean everything they drink, even fruit juice.
Many Americans consume more than 25 percent of their recommended daily calories in juice, soda pop, flavored coffees and energy drinks.
Liquids leave the stomach faster than solids do, and they don't fill you up. So your body doesn't think you've taken in calories and you end up eating the same amount of solid food you would have otherwise. Biologically speaking, humans were not designed to drink liquids that have calories in them. We're designed to drink water, and maybe milk.
Juice is a prime example of the problem. One small apple has about 40 calories. It probably takes me about five minutes to eat it. An 8-ounce glass of apple juice has almost three times the calories – about 110. I like apples, but I am unlikely to sit still long enough to chew and swallow three of them, which is what I would have to do to get that many calories. Plus, I would get full after the second apple. But I can drink three apples' worth of juice in under a minute and not feel full.
We know from studies that chewing fruit instead of drinking juice stimulates hormones that make us feel less hungry. And the fruit, like all whole foods, takes longer to move through our gut, providing valuable fiber as well as making us feel full.
Men's Health website, one of my favorites, lists the 20 worst beverages in America. It shows the caloric equivalent of sugary beverages in junk food. One glass of sweet iced tea, for example, equals six doughnuts. One glass of lemonade equals seven bowls of Froot Loops cereal. Too bad they don't stack up three apples next to the apple juice, or four oranges next to a glass of orange juice.
To cut back on high-calorie juice, keep a bowl filled with luscious in-season fruits. Instead of orange juice with breakfast, have an orange. Or try this fruity salad at dinner. The dressing is low in sodium and delicious.
Summer Salad by Chef Ron
A winning recipe from Northwest Kidney Centers' 2008 Food for the Soul recipe contest
1 small head bibb or butterhead lettuce, torn
6-8 strawberries, sliced

1 (11-ounce) can mandarin oranges, chilled and drained

1/2 small purple onion, sliced and separated into rings
1/4 cup toasted slivered almonds
1/4 cup Parmesan cheese, shredded
Fresh basil, shredded
Dressing:
1/4 cup olive oil

2 tablespoons balsamic vinegar

1 teaspoon sugar

1/8 teaspoon pepper
Combine salad ingredients in a large bowl. Combine dressing ingredients in a jar, cover tightly and shake until mixed well. Pour mixture over salad, toss gently to coat. Serve immediately. Makes four servings.
Nutritional information, per serving:
Calories: 250; Carbohydrates: 14 g; Protein: 5 g; Fat: 20 g; Sodium: 95 mg





[Katy G. Wilkens is a registered dietitian and department head at Northwest Kidney Centers. The National Kidney Foundation Council on Renal Nutrition has honored her with its highest awards: the Susan Knapp Excellence in Education Award and the Joel D. Kopple Award for significant contributions in renal nutrition. See more recipes at www.nwkidney.org.]