Living under Lockdown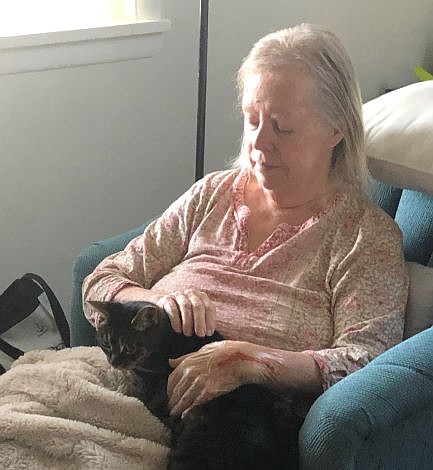 After the lockdown, Baba got in her wheelchair and went down the hall to the physical therapy gym to see her family members through the window. I was able to pay her a visit through the window when I went down to visit family in late March. A few days after our visit, the facility closed down the gym because it was dangerous to have multiple people in the room at once. Since her room was facing the enclosed courtyard instead of the parking lot where the gym window was, she could not even see visitors through the window.
Even though her window visits were short-lived, other residents were not so lucky. Baba said that she was one out of only a few of the residents who got window visitors. There were many people who did not have a close relationship with family members or were not physically able to leave their bed to go down the hall to the physical therapy room.
It was hard to stay positive during an isolating lockdown but Baba gained some hope from the kind and patient nursing staff who cared for her each day she lived in the facility. The nurses and nursing assistants kept Baba company during long days of physical and emotional isolation. She got along particularly well with a young nursing assistant, so well that they engaged in a teaching exchange of languages. Baba learned some Spanish words and phrases and she taught him the same in Russian.

Another break from the monotony of the lockdown was Baba's weekly visit to the doctor's office. She liked this visit because she got to ride in the van with the friendly driver who would stop at a drive-thru Starbucks on the way back to the assisted living facility, she said.

Today, Baba is living independently as she was released from the assisted living facility several weeks ago. Her two daughters took on the roles of the nursing and the kitchen staff inside her rental home. Despite the precautions taken by the staff of the assisted living facility, Baba feels safer in her new house because she is only in contact with family. Her daughters are vigilant in preventing the spread of the virus through measures of social distancing.
After she was admitted to the assisted living facility, Baba had to leave her elderly cat Rosie in her condominium. Rosie was alone in the condo for three months while Baba was living at the care facility, aside from drop ins by family to refill her food and water bowls. Baba and Rosie were reunited once she moved into her rental home. The cat jumped all over Baba, meowing with joy once the two saw each other.
"She very rarely leaves my side now," said Baba