Pain management options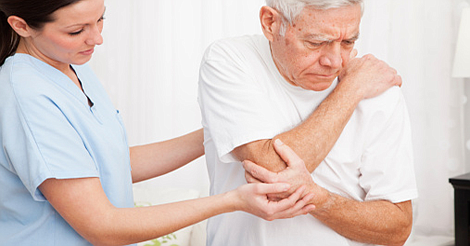 By Maddie Smith
Treating chronic pain is essential in maintaining mobility, strength and a positive attitude, whether a patient is recovering from a surgery or cancer treatment, or coping with aging in general. It is very common for doctors to prescribe opioids to patients for their chronic pain, even if the patient is not aware of other options.
Joan Maxwell is a patient advocate for alternative treatments for chronic pain. After she was diagnosed with breast cancer, she needed nine surgeries including a double mastectomy. She said she did not have a conversation with her doctor about pain management options for any of her surgeries.
"Nine times I had surgery and nine times I was prescribed opioids," Maxwell said.

About 11% of adults in the U.S. live with chronic pain and about 17% live with severe levels of pain, according to a National Health Interview Survey conducted in 2012. There is a plethora of information circulating about pain management treatments and even more treatments that don't get attention from the medical community. Each patient is different, as is each treatment. Public Broadcasting Service hosted an informative panel discussion in December 2016. Here is what some of the experts in the field have to say about managing pain.
Dr. Christopher Valley- specialist in chronic pain and fibromyalgia at Arthritis Northwest
"Collaboration is key," said Dr. Valley.
Educating patients and prescribing exercise regimens are his specialty, but he likes to reach out to other experts for advice on other types of treatments, he said.
Dr. Valley works with many patients who have fibromyalgia, which is a difficult condition to diagnose. In order to deliver an accurate diagnosis, he pays close attention to information the patient is telling him. He looks at the patient history but does not take previous diagnosis made by other doctors at face value. Lastly, he performs a thorough physical exam on the patient.
A good physical exam is time consuming, according to Dr. Valley. Most primary care physicians do not have enough time to conduct a thorough physical exam, he said.
Education about pain is important for patients, especially in relation to exercise. Making the patient aware that their pain is temporary and manageable is crucial in their recovery. He prescribes exercise just as a physician would prescribe a medication, writing it down on a prescription and starting with small doses. Dr. Valley takes into account the limits and boundaries of his patients and adjusts dosage of exercise accordingly. He also makes them schedule a time to do their exercise and write it down in a planner.
"I think human beings are a little better with appointments than we are with abstract concepts," he said.
A low-inflammation diet has also shown signs of helping with pain management in some cases, although research is still underdeveloped, said Dr. Valley. Low-inflammation diets include vegetables and healthy fats and cut out many processed foods and refined sugars. For more information on using diet for pain management read the "What should you eat to help with chronic pain" sidebar at the end of this article.