Chocolate, the fourth food group
Dark chocolate is healthier, with less sugar.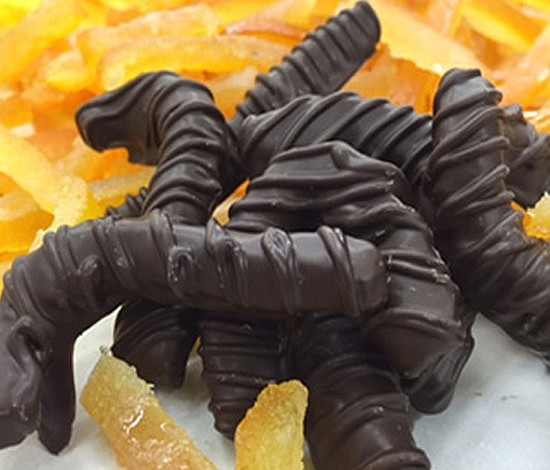 During these challenging times, sometimes we just need a treat. And what better treat than chocolate? While chocolate is not really addictive, most of us would agree that it is one of the best treats to indulge in. Why is it so pleasing? Interestingly, one of the main reasons chocolate has such universal appeal has to do with its texture, not its flavor.
Chocolate's fat molecules have a unique melting point just below body temperature. This gives chocolate its creamy texture and "melt in your mouth" feel.

Chocolate is high in flavonoids, which are a kind of antioxidant. Dark chocolate and cocoa powder have more antioxidants than other chocolate. You also can get flavonoids from fruits and veggies – usually accompanied by a lot fewer calories than in chocolate.
So if you are eating chocolate for your health (what a good excuse!), use dark chocolate, which is usually lower in sugar, or better still, use cocoa powder.
By the way, most chocolate recipes don't need salt, which can contribute to heart and kidney problems. If your favorite chocolate recipe calls for salt, try leaving it out and instead adding a teaspoon of vanilla, a healthier flavor enhancer.

Chocolate-covered candied orange peel
3 navel oranges
1 teaspoon baking soda
3 cups sugar
1½ cups water
Granulated sugar, for coating
1½ cups chopped semisweet chocolate
Cut ¾-inch-wide strips of peel from oranges. Scrape off as much of the white membrane as possible. Put orange peel strips into a pan with baking soda and cover with water; bring to a boil. Reduce heat and simmer 20 minutes. Drain, rinse and simmer in fresh water for another 10 minutes. In a second pan, bring sugar and 1½ cups water to boil. Stir until sugar has dissolved. Let boil 5 minutes. Add orange peel, simmer for 15-20 minutes. Remove from syrup. (Save the syrup; it is great drizzled over pancakes, toast or ice cream). Dry orange peel for 20 minutes on a baking sheet in an oven heated to 300 degrees, checking to be sure it does not burn. Remove, roll in granulated sugar and allow to cool. Melt chocolate in double boiler or microwave on medium heat. Dip orange peels in chocolate and let stand on wire rack. Keep in airtight container.
Nutritional information (per 2-ounce serving):
Calories: 149, Carbohydrates: 31 grams, Protein: 1 gram, Sodium: 45 milligrams
Chocolate chip banana muffins
3 cups flour
1 cup sugar
4 teaspoons low-sodium baking powder
1 teaspoon cinnamon
2 cups nonfat milk
1 cup mashed banana
½ cup oil
2 eggs
½ cup chocolate chips
¾ cup chopped nuts
Preheat oven to 400 degrees. In large bowl combine flour, sugar, baking powder and cinnamon. Make well in center. In small bowl, combine milk, banana, oil and eggs, then add to dry ingredients. Stir until just moistened. Mix in chocolate and nuts. Spoon into greased or paper-lined muffin cups, filling each three-quarters full. Bake for 18-20 minutes or until a toothpick comes out clean. Cool 5 minutes, remove from pans. Makes one dozen.
Nutritional information (per serving, one muffin):
Calories: 425, Carbohydrates: 58 grams, Protein: 10 grams, Sodium: 77 milligrams
[Katy G. Wilkens is a registered dietitian and department head at Northwest Kidney Centers. The National Kidney Foundation Council on Renal Nutrition has honored her with its highest awards: the Susan Knapp Excellence in Education Award and the Joel D. Kopple Award for significant contributions in renal nutrition. See more recipes at www.nwkidney.org.]