September Witch!
Sharing Stories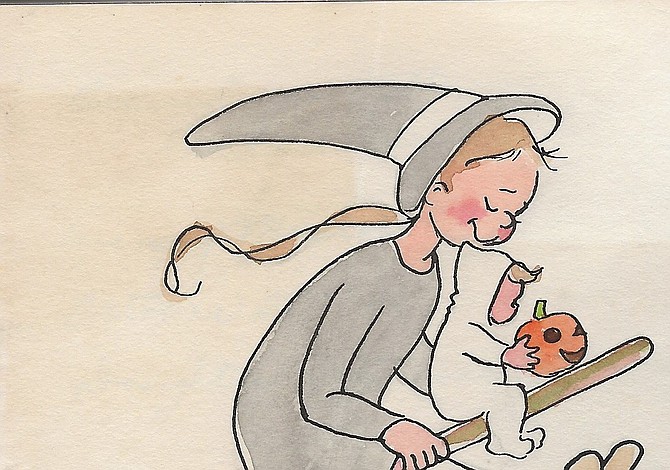 September Witch!
My birthday is a few days before Halloween. My birth announcement, painted by my mother, was a witch flying on a broomstick with her little baby clutching a carved pumpkin. (Inside it said, "Arrived on the Halloween Express.")
For my birthdays, Mom always made me a pumpkin pie with pie-crust jack-o-lanterns on the top. Black and orange became my favorite color combination, and I never met anything "pumpkin" I didn't like. My favorite childhood book was The Witch Family and my favorite movie was Bell, Book, and Candle (with Jimmy Stewart and some wacky witches in Greenwich Village).
However, I was not supposed to be a Halloween baby. My due date was September 28th. And the doctor pointed to my long hair and fingernails at birth to prove that I'd chosen to linger an extra month.
Every year, at this time (late September until my birthday in late October), my mother called me each day and asked me when I was going to show up! Then she'd tell me not to forget to bring my geraniums in before the first freeze.
Since my daughter arrived punctually, two days before her due date in July, I can't know what it was like for my mother. As I recall, she said the little hospital suitcase sat next to the door every day, and Mom was feeling like she'd been pregnant for plenty long enough. Now, they'd probably do a cautionary caesarian, and I wouldn't have such a cool birthday.
September is part of Autumn, and I do like Autumn and the start of the school year, of course. But it's not quite as cool as a holiday where people wear fun costumes and give each other all kinds of candies. A time when so many homes have jolly pumpkins or ghosts, witches, and goblins on the lawn. Stories and movies to commemorate the fun time. Carmel apples, endless popcorn, spiced cider, and warm doughnuts.

As a child, I recall thinking that Christmas was good, but Halloween was magic. Plus, I got really good gifts for mine: every form of Halloween jewelry, costumes, tools and templates for cutting pumpkins, and magazines loaded with recipes reminiscent of Halloween icons—"mummy dogs" (hotdogs wrapped in strips of biscuits), "witches' fingers" (thick pretzels dipped in caramel and fitted with candy corn "fingernails"), and Grave Yard cakes—chocolate to look like dirt with gummy worms.
Lucky me, a September baby magically held over to be a September Witch!
Ariele M. Huff lives, loves, and writes in Aberdeen, Washington. Connect with her for online advice or writing classes at ariele@comcast.net.
SHARING STORIES is a weekly column for and about the 50 plus crowd living in the Puget Sound region. Send your stories and photos to ariele@comcast.net. Tell local or personal stories; discuss concerns around aging and other issues; share solutions, good luck, and reasons to celebrate; poems are fine too. Pieces may be edited or excerpted. We reserve the right to select among pieces. Photos are always a plus and a one-sentence bio is requested (where you live, maybe age or career, retired status, etc.).
SHARING STORIES is featured on www.northwestprimetime.com, the website for Northwest Prime Time, a monthly publication for baby boomers, seniors, retirees, and those contemplating retirement. The newspaper can be found in the greater Seattle area and other Puget Sound locations. For more information, call 206-824-8600 or visit www.northwestprimetime.com. To find other SHARING STORIES articles on this website type "sharing stories" in the search function above.