A trip to Chelan
Beautiful views and a variety of activities attract vacationers to Chelan and Manson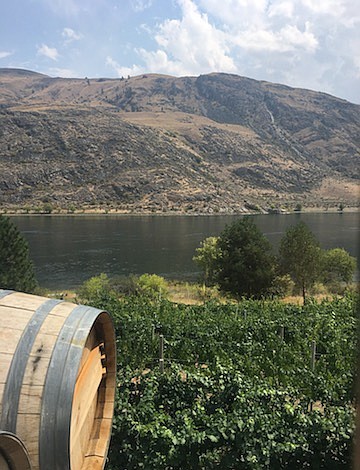 The cities of Chelan and Manson offer an eventful getaway weekend or week, ideally in the spring and summer, but enjoyable any time of year. From the south side of Lake Chelan, through downtown and winding around north of the lake toward Manson, visitors settle into timeshares and hotels, grab lunch and dinner al fresco, ride jet skis and taste local wines.
I've been visiting Chelan regularly since as early as my memories begin. As a child, I would look out the car window at the end of our road trip and see acres of fruit orchards and vineyards. They cover the hills in patches, along with neighboring resorts, snow cone stands, shoreline, a water park and more. My parents have vacationed in the area since 1985; starting in 2002 when I was five years old, we look forward to our week as a family in the summertime sunshine at Lake Chelan Shores.
Places to stay: Lake Chelan Shores resort (www.lakechelanshores.com, 509 682-4531) is close to both downtown Chelan and Manson and has several pools, a boat launch, playground and tennis courts.
Grandview on the Lake (www.grandviewonthelake.com, 509 682-2582) is another lake-front option that offers a variety of condominiums and rooms. Visitors on a budget look toward Apple Inn (www.appleinnmotel.com, 509 682-4044), located at the edge of downtown and next to the traditional Apple Cup Cafe (www.applecupcafe.com, 509 682-5997). Campbell's Resort and Restaurant (www.campbellsresort.com, 509 682-2561) is highly rated and well known in the area since 1901.
Stehekin: Fifty miles up the lake from the city of Chelan and only accessible by boat, plane or hike is the community of Stehekin. With a population of less than 100 permanent residents and no cell phone service, visitors will find themselves blissfully out-of-touch while exploring this secluded pocket of the North Cascades. They spend their time fishing, on nature walks, sampling local art and food, and chatting with locals. I visited Stehekin in 2010 when my cousin, who spent some of her childhood growing up in Stehekin with my aunt, had an art show displayed for the week. We stayed in a small cabin (lacking locks, a commonality for the teeny town), took walks to swim in the ice-cold river and to the Stehekin Pastry Company to eat sticky buns. I even got to see a black bear in our cabin's front yard! Check out www.stehekin.com or call (888) 682-4584 to learn more about taking a trip to the other end of the lake.
Places to eat: Lakeview Drive-In, (www.lakeviewdrivein.com, 509 682-5322) which changes hours based on season, has been a regular stop for many locals and visitors craving juicy cheeseburgers or creamy milkshakes and fries since 1957. Right off of Manson Highway and overlooking Lake Chelan from the east, Lakeview is packed around lunchtime and all throughout the weekend. The burger joint neighbors a boat-launch; watching the boaters maneuver in and out of the water is a great past time while waiting for your food.
For a laid-back atmosphere with good drinks and American-classic food, locals visit B.C. MacDonald's (509 682-1334) on historic Woodin Avenue. After dinner, customers buy ice cream cones from a small parlor just off the entrance of the restaurant.