Save Some Summer by Freezing Herbs Now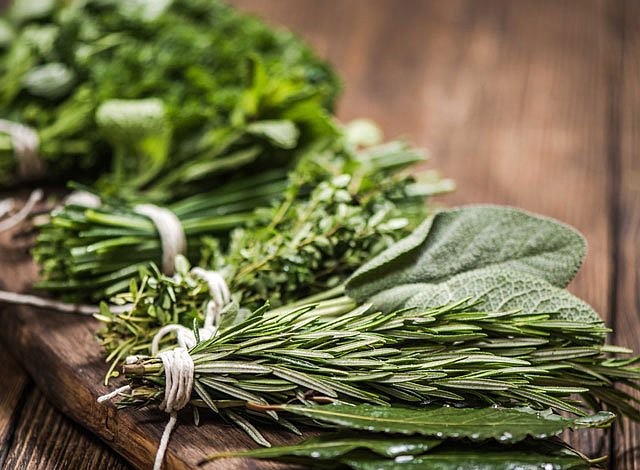 The green herbs of summer are here! I am throwing them into everything I make right now. Green herbs can add an aromatic layer to your recipes, which can take away the need to use salt as a flavor enhancer. Using less salt in your diet helps to keep your blood pressure low and your kidneys healthy.
I am so spoiled with fresh herbs now, it is hard for me to go back to dried herbs because they lack so much of that earthy greenness. Fortunately, you can freeze fresh herbs for year-round use. Freezing also helps them retain their color, flavor and vitamins.
After washing your herbs, remove the tough stems. Finely chop the remaining leaves, and put them in ice cube trays. Add water and put them in the freezer until frozen solid. Then remove the cubes and store them in small bags in the freezer until needed.
When I am in a hurry, I just throw fresh herbs in the freezer, unwrapped, until frozen. Then I remove them, break them up, and put them in zip-lock bags to store in the freezer.
Another technique is to wrap whole sprigs of herbs in aluminum foil and then freeze them. This allows you to crush the herbs with the palm of your hand while they are still in the foil.
To get the fresh taste of summer all year round, try the following recipes with your herbs, whether you've just picked them from the garden or pulled them out of your freezer.
Fresh Peas with Goat Cheese
Fresh-cut chives, with blossoms if available
8 ounces goat cheese
½ cup low-fat sour cream
2 tablespoons lemon juice and lemon zest
1-2 cups of fresh pea pods (English or snap)
Bunch of fresh radishes
Finely chop the chives and mix into the goat cheese and sour cream, then add lemon juice and zest. Serve as a dip alongside washed pea pods and radishes with their greens left on.
Serves 6-8 as an appetizer.
Nutritional information:
Calories: 137, Carbohydrates: 7 g, Protein: 8 g, Fat: 8 g, Sodium: 102 mg
Tarragon Vinaigrette
This works great for any fresh green salad for summer.
1/3 cup white wine vinegar
1 tablespoon Dijon mustard
2 tablespoons tarragon
1 tablespoon sugar
2/3 cup salad or olive oil
Whisk the ingredients together or put in food processor or blender, while gradually adding oil.
Nutrition information: Calories: 128, Carbohydrates: 2 g, Protein: 0 g, Sodium: 25 mg
[Katy G. Wilkens is a registered dietitian and department head at Northwest Kidney Centers. The National Kidney Foundation Council on Renal Nutrition has honored her with its highest awards: the Susan Knapp Excellence in Education Award and the Joel D. Kopple Award for significant contributions in renal nutrition. See more recipes at www.nwkidney.org.]