Appetites
Sharing Stories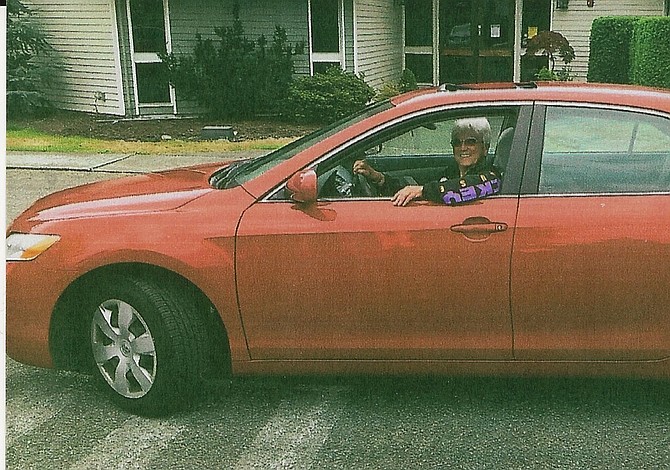 I had to get out of the house. Breaking news was depressing. I remembered Mom's long-ago surprising words, "I canceled the paper, and don't watch television news anymore." I laughed, thinking she was joking. Looking in the mirror, I saw a reflection of Mother. Heredity, I am ultimately your shadow. Car keys jingled a soft tune as I silenced unwanted news. Searching for a café, the drive shifted to stressful. Each brake tap, the oil light flashed a red low oil warning, mixing worry with an image of a stainless-steel salad boat dripping tasty, warm vinaigrette over a leafy spinach salad. The oil light glow merged with lunchtime hunger growls. I drove to the car dealer—the only garage that has looked under my car's hood for maintenance. She is very modest and is a one-garage-gal. I met her there—the shiny new red beauty that had given me a flirtatious wink, capturing my heart. This time, I was prepared for bad news. Thinking back, I smiled, remembering a friend suggested, "If you love that car so much, why don't you name it?" Like a flower in the garden of happiness, there was no doubt she was my red, red rose. Lacking a service appointment, I drove Rose in for a diagnosis, explained our dilemma, and was told, "Don't worry, older cars burn oil and needs to be topped off." Guided to the oil man with the oil can, Rose gulped the fluid with enthusiasm—rescued at an oasis in a cement covered wasteland. I'm positive I heard her humming and was assured my worries were over. Stomach rumbling, I drove away, parking at the nearest restaurant.
Obeying the "please wait to be seated" sign, I was greeted by a handsome man with a pearly white smile, and exotic accent, who guided me through a wilderness of chairs to a window table. I thought of years ago, a three-month Mexico driving adventure with a friend, map, dictionary translation, and the unexpected thrill climbing Teotihuacan pyramid. In the markets we bought stacks of tortillas to spread thick, chunky peanut butter for on the road snacks. Settling in, he asked if I wanted a drink. Answering, "Only water," an icy glass appeared speedily. I believe it may have been hidden up his starched and pressed sleeve as he announced, "I am Eduardo and will take care of you." An all-American menu showed breakfast any time, hamburgers, and a variety of old-fashioned dishes. Watching Eduardo walk rhythmically away, I had a surprising craving for south of the border food. I ordered a chili burger, covered in onions, cheese, avocado, and sour cream—splashes of Tapatio Hot Sauce gave my taste buds a mouthwatering salsa dance. Fantasizing I was fifty years younger, memories of happy Mariachi music played in my head. I imagined a sombrero tossed onto the floor, shaking maracas, or clicking castanets, and signaling a mood for the Mexican hat dance. Saying "goodbye," shaking my hand, he announced, "Don't forget Eduardo." Oh Eduardo, you make me wish for a taco truck on every corner.
On an extraordinary day, old Rose and I had our appetites happily topped off.
We drove home contentedly grinning sunset smiles.
April Ryan is a retired Seattle Metro driver and an actively working writer/poet.
SHARING STORIES is a weekly column for and about the 50 plus crowd living in the Puget Sound region. Send your stories and photos to ariele@comcast.net. Tell local or personal stories; discuss concerns around aging and other issues; share solutions, good luck, and reasons to celebrate; poems are fine too. Pieces may be edited or excerpted. We reserve the right to select among pieces. Photos are always a plus and a one-sentence bio is requested (where you live, maybe age or career, retired status, etc.).
SHARING STORIES is featured on www.northwestprimetime.com, the website for Northwest Prime Time, a monthly publication for baby boomers, seniors, retirees, and those contemplating retirement. The newspaper can be found in the greater Seattle area and other Puget Sound locations. For more information, call 206-824-8600 or visit www.northwestprimetime.com. To find other SHARING STORIES articles on this website type "sharing stories" in the search function above.