Pumped up for pumpkin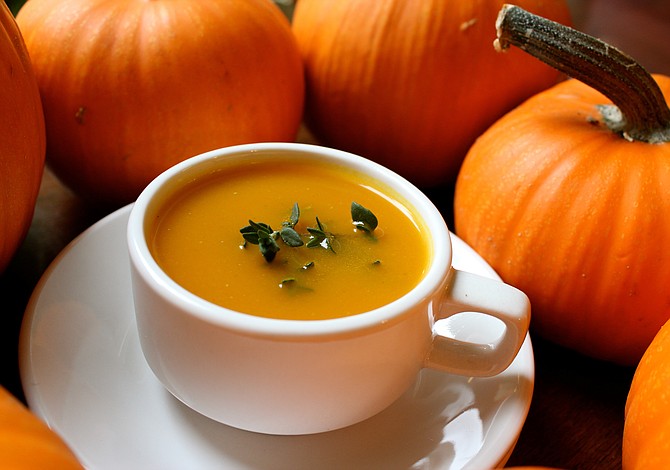 The pumpkins from my garden are lying outdoors, waiting patiently for me to transform them into sweet and savory fall treats. Pumpkins get their beautiful color from the orange pigments full of vitamin A within them.

Pumpkin is healthy for you (unless you add lots of evaporated milk and sugar). It's low in calories and low in sodium, and high in beta carotene and vitamin A. It's a great source of potassium and fiber as well. The seeds are high in trace minerals and vitamins like magnesium, phosphorous, vitamin E, protein and essential fatty acids. So get pumped up for pumpkin this season!
If you have fresh pumpkins, you can prep them for cooking by baking them in the oven for about an hour and then pureeing the flesh. Canned pumpkin has all the nutritional benefits of fresh, but you miss out on the chance to roast the seeds.
Savory pumpkin soup
1 chopped onion
3 cloves garlic, minced
1 cup sliced mushrooms
2 tablespoons oil
2 cups water
2 cups low-sodium vegetable broth
2 cups pumpkin
Rind of parmesan cheese, if you have it
1 tablespoon fresh thyme
1 tablespoon chopped fresh sage
Sauté onion, garlic and mushrooms in oil until caramelized and nicely browned. Add water, broth and pumpkin. If too thick, add more water. Add parmesan rind and stir occasionally to keep from sticking. Simmer for about 30 minutes. Add fresh herbs ten minutes before serving.
Nana's pumpkin chiffon pie
My grandmother's recipe is a lighter alternative to the traditional heavy pie, but still great on flavor. Use a pre-made crust to save time; it is relatively low in sodium.
1 Pillsbury pie crust
¼ cup cold water
1 tablespoon unflavored gelatin
3 egg yolks
1 1/4 cup pumpkin
1 cup sugar
½ cup milk
½ teaspoon cinnamon
½ teaspoon nutmeg
½ teaspoon ground ginger
Pinch of ground cloves
3 egg whites
Put pie crust in pie pan, follow package directions to pre-bake. Soak gelatin in cold water. Beat egg yolks slightly. Add pumpkin, ½ cup sugar, milk and spices to egg yolks and cook over hot water in double boiler or in microwave until thick enough to coat the back of a spoon, stirring occasionally. Stir in gelatin until dissolved. Cool. Meanwhile, whip egg whites until stiff. When pumpkin mixture begins to set, stir in the other 1/2 cup sugar and fold in egg whites. Fill pie shell, chill several hours or overnight. Serves 8.
Nutritional information (per serving):
Calories: 210, Carbohydrates: 29 grams, Protein: 5 grams, Sodium: 176 milligrams
Roasted pumpkin seeds






2 cups washed pumpkin seeds
1 ½ tablespoons melted butter
½ teaspoon Worcestershire sauce
Mix together all ingredients and spread seeds on a 10-by-15-inch baking pan. Bake at 250 degrees, stirring occasionally, until browned and crisp, about 2 hours. Serve warm or cool. You can store the seeds in an airtight container for up to 1 week.
Nutritional information (per 1/2 cup):
Calories: 199, Carbohydrates: 4 grams, Protein: 8 grams, Sodium: 6 milligrams
[Katy G. Wilkens is a registered dietitian and department head at Northwest Kidney Centers. The National Kidney Foundation Council on Renal Nutrition has honored her with its highest awards: the Susan Knapp Excellence in Education Award and the Joel D. Kopple Award for significant contributions in renal nutrition. See more recipes at www.nwkidney.org.]