Measuring Loneliness and Isolation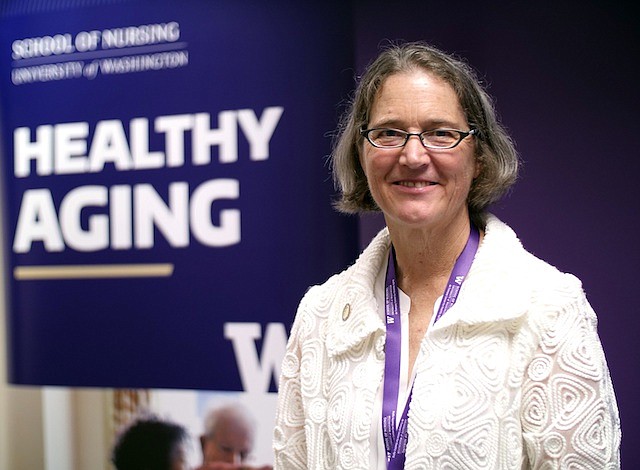 ...by Paige Bartlett, UW School of Nursing, de Tornyay Center for Healthy Aging
Humans have evolved to thrive in collaborative networks of people; being without these vital human connections can be damaging to our health. Social isolation can raise your risk of dying by as much as smoking 15 cigarettes a day.
"More and more older adults are feeling socially isolated," said Basia Belza, director of the de Tornyay Center for Healthy Aging at the UW School of Nursing. "Even though they may have family members, they don't always feel comfortable reaching out to them."
According to a recent national poll, one in four older adults feel socially isolated at least some of the time. Yet in clinical settings we don't have a way of recognizing and screening for social isolation in people, even when it can have such a dramatic impact on health. If health care providers could better screen for social isolation, they could potentially help patients address it.
A group of researchers at Texas A&M, in collaboration with Maintain Active Citizens in Maryland and funded by AARP, drafted a social isolation screening survey which could be an invaluable tool for professionals to identify socially isolated clients who have limited connection or interaction with others. Researchers in four other states, including Washington, are helping to test and refine the tool. The University of Washington group is led by Belza and research scientist Lesley Steinman, and coordinated by Masters of Public Health student, Jenny Wool.
The screener includes questions about the individual's feelings. For example, if they feel a sense of belonging in their community or if they're satisfied with their relationships. It also asks objective questions such as how many people they've had contact within the last week or if it's easy for them to get around.
Professionals who provide care or service to the survey takers, such as social workers or building managers, are also asked to fill out a shorter version so the researchers can see how accurately professionals identify social isolation in the people they work with.
Many local organizations and older adults have stepped up to help in Washington. Based on the overwhelming interest from the community, the UW group doubled the number of participants taking the survey from 100 to 200. Sea Mar Community Health Center volunteered to help translate and test the tool into Spanish to gather data from Spanish speaking older adults.
There is no one-size-fits-all solution to social isolation, but there are lots of ways older adults can get involved in the community whether that's trying an exercise class, volunteering or a joining a local hobby group. While some people feeling isolated might not have close friends or family to turn to, most have someone they can approach about how they're feeling, whether that's a social worker, a neighbor, a volunteer at the local community center or their health care provider.
Belza hopes that the screener will eventually be able to help – not only identify if someone is socially isolated, but also how best to help them. Help may come from local resources, community groups, counseling or personal support, whether in person or over the phone.
For anyone who's feeling alone in Puget Sound area, good resources include: the many neighborhood senior centers; Elder Friends (206-224-3790 or www.fulllifecare.org/we-can-help/ by-service/elderfriends) which provides companionship and advocacy services to isolated older adults; Community Living Connections (1-844-348-5464, www.communitylivingconnections. org), which helps individuals across many languages and cultural backgrounds access disability and aging resources; and calling 2-1-1, which connects people with local services.