Can Can's Latest Offering "Beautiful" Continues the Tradition of Outrageously Fun Adult Entertainment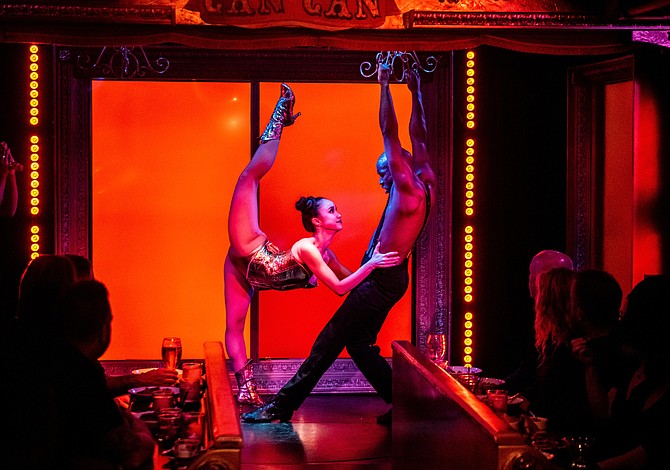 Can Can Cabaret's newest production Beautiful continues with their tradition of bringing quality adult entertainment to Seattle's Pike Place Market. If you've never been to the Can Can, it's a tiny hidden surprise of a venue. It seats about 100, has a runway / stage running down the center and no patron sits more than a few feet from the action.
And action is what Can Can is all about. Beautiful features songs by the show's Renee Holiday. Here's how Can Can describes the show:
Inspired by Renee's (formerly Shaprece) own life, Beautiful tells a coming-of-age story - a metamorphosis - told through iridescent lyrics and ravishing choreography. The show brings the magic from the Can Can recording studio to the stage underneath the historic Pike Place Market with Renee Holiday's debut as the featured chanteuse and narrative subject in this new show. She will be accompanied by Can Can's unparalleled combination of classically-trained dancers and cutting edge video projections, all perfectly attuned to a locally and sustainably sourced fall dinner menu.

Emerging in 2011 with her experimental R&B EP Scatterbrain under Shaprece (a nod to her real name, Shaprece Renee Richardson), Renee has leaned into her creativity, sticking to organic processes over standard formulas for song making. "This is a rebirth. This is mature. This is well thought out. These are all of the lessons that I've learned through music, love, and patience," she explains of her reintroduction, noting that her middle name "Renee" also translates to "rebirth." "This is what I have to offer at this point in my life and in my career. Everything else was training to get to Renee Holiday."
What actually happens is a traditional Can Can raucous acrobatic semi-burlesque singing, dancing and comedy show that hinges on the talent of master of ceremonies (and dancer) Jonathan Betchtel. He introduces the show, works the crowd to find the audience member(s) most likely to be very entertaining when pulled on stage and keeps the energy of the crowd upbeat. He is assisted by three other scantily clad dancers (one man and two women) in making the night fun for the entire audience.
The night I attended, Betchel hit a home run picking a guy named Michael who was on a first date and who, when he got on stage, seemed like he was a planted ringer. Michael had no inhibitions about dancing and grinding like he was part of the show.
And everything takes place at a breakneck pace, except for when Renee Holiday appears to sing. Then, the fun stopped as she presented her vocals. By using Ms. Holiday as the centerpiece of the show rather than having a simple story to tell, this show is a bit less enjoyable than most Can Can offerings. Still, it's much better than most adult entertainment in the Seattle area.
The cast and crew make sure that everyone is served with good food and drink as well as acknowledged for any special events. The night I saw the show, the room was dominated by two birthday parties, one for someone turning twenty-one and one for a woman who turned seventy and wanted to make sure that everyone in the room knew it.
All in all Can Can at the Marketplace is a great way to entertain guests or just let go and enjoy some steamy singing, dancing and comedy. Just don't let the description of the show lead you to believe that you're going to see a stunning "coming-of-age story."
Beautiful continues at Can Can Cabaret through December 1.
L. Steven Sieden is a writer, event producer and global futurist. His books include "Buckminster Fuller's Universe" and "A Fuller View, Buckminster Fuller's Vision of Hope and Abundance For All". He has been reviewing Seattle area theatre and live entertainment since 2012.