Savoring the abundance of fall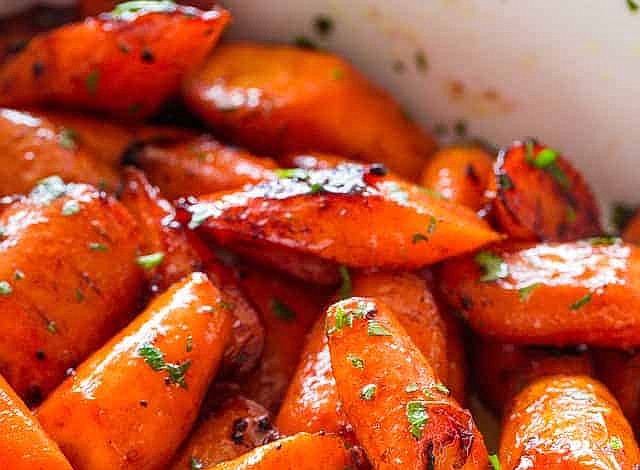 Leaves are swirling around in the garden, which means it's time to pick my fall harvest before the weather turns nasty.
Here are some ways to use the abundant fruits and vegetables you'll find in the Pacific Northwest in the fall:
Asian pears: The wonderful, crunchy and apple-like texture of these fruits is best fresh in salads, or baked, where they stand up very well.
Beets: These great root vegetables will keep for months in your refrigerator. Try them in a beet salad with blue cheese and hazelnuts or walnuts. Use plain oil, vinegar and fresh basil to flavor.

Brussels sprouts: Brussels sprouts will be sweeter after the first frost. Roast or stir fry to let their nutty flavor shine through.
Cabbage: Nothing keeps as well as cabbage, and it's great in salads.
Carrots: A true winter staple, carrots are a tasty addition to your favorite marinara sauce. Or try the glazed carrots below.
Greens: Get all the great vitamins you need with spinach, mustard greens, kale, collard greens or beet greens.
Winter squash: Using your barbecue in the winter may seem odd, but you'll love these roasted harvest vegetables so much, you'll do it often.
Fruits and vegetables are great sources of potassium. For those with healthy kidneys, the more potassium you eat, the better your blood pressure and overall health.
Glazed carrots
6 carrots, cut on bias
1/2 cup of water
3 tablespoons sugar
1 tablespoon butter, cut into 4 pieces
2 tablespoons fresh lemon juice
Black pepper to taste
Bring carrots, water and 1 tablespoon sugar to boil. Cover and reduce heat, simmering 5 minutes. Uncover and reduce 1-2 minutes. Add butter and remaining sugar. Stir 3 minutes. Remove and add lemon juice. Serves four as a side.
Nutritional information:
Calories: 101, Carbohydrates: 19 grams, Protein: 1 gram, Sodium: 68 milligrams
Pear crisp
¾ cup coarsely chopped nuts
½ cup unbleached all-purpose flour
¼ cup packed light brown sugar
4 tablespoons granulated sugar
¼ teaspoon ground cinnamon
1/8 teaspoon ground nutmeg
1/8 teaspoon salt
5 tablespoons unsalted butter, melted
1 teaspoon cornstarch
2 teaspoons juice from 1 lemon
3 pounds (6-7 medium) pears, or Asian pears, ripe but firm
Adjust oven rack to lower middle position and heat oven to 400 degrees. Process nuts, flour, brown sugar, 2 tablespoons granulated sugar, cinnamon, nutmeg and salt in food processor until nuts are finely chopped, about nine 1-second pulses. Drizzle butter over flour mixture and pulse until mixture resembles crumbly wet sand, about five 1-second pulses, pausing halfway through to scrape down sides and bottom of work bowl. Set aside while preparing fruit.

Whisk remaining 2 tablespoons granulated sugar, cornstarch and lemon juice in a large bowl. Peel pears, then halve and core each. Cut each half into 4 wedges and then cut in half crosswise (pieces should be about 1½ inches). Gently toss pears with sugar mixture and transfer to 8-inch square baking dish.

Sprinkle topping evenly over fruit, breaking up any large chunks. Bake until fruit is bubbling around edges and topping is deep golden brown, 45 minutes. Cool on wire rack until warm, at least 15 minutes, and serve. Serves 6.
Calories: 323, Carbohydrates: 42 grams, Protein: 5 grams, Sodium: 4 milligrams, Protein: 5 grams, Sodium: 4 milligrams
[Katy G. Wilkens is a registered dietitian and department head at Northwest Kidney Centers. The National Kidney Foundation Council on Renal Nutrition has honored her with its highest awards: the Susan Knapp Excellence in Education Award and the Joel D. Kopple Award for significant contributions in renal nutrition. See more recipes at www.nwkidney.org.]